Come and join in the Blind Cricket Open Day. FREE. All ages welcome!
We have set a new date to celebrate the 99th Birthday of Blind Cricket here in Victoria. Come along to an all-ages Open Day celebration. Enjoy the All Day BBQ, meet the teams and players and learn about the game of Blind Cricket. Best part is, it's completely FREE!
Join us at the Blind Cricket Open Day.
Date: Saturday the 6th of November, 2021
Time: 10:00am to 4:00pm. Come any time and stay for as long or as little as you like.
Venue: Behind Vision Australia at 454 Glenferrie Road, Kooyong
Cost: Free Entry - Includes All Day Barbecue. Snacks and drinks available from CASH BAR.
Who Can Attend: Open to all! If you are interested in playing, volunteering or even just a local to the area, come along and meet the team. Various activity stations will be set up from T20 Matches and coaching clinics for adults and teens to a Junior Blast Zone for youngsters and little ones. Opportunities to learn how to Volunteer in roles such as Umpiring and Scoring are also available. All activities open to all.
How to get to the Blind Cricket Open Day venue.
Train: Take the Glen Waverley Train to Kooyong Station. The Open Day is across the street from Platform 2 in the back of Vision Australia
Tram: Take Route 16 to Stop 66, Vision Australia/Kooyong Tennis Centre. The Open Day is behind Vision Australia
Car: Just a stone's throw from the Toorak Rd exit of the Monash Freeway. Park in the Carpark between Vision Australia and the freeway bridge.
Where can I register?
You can register on the Victorian Blind Cricket Association's website by clicking here
Further Information
How does Blind Cricket work?
Blind Cricket is a modified version of the game invented right here in Victoria. Blind Cricket allows for people with different levels of sight to play together on the one team. Using an audible ball, bowlers deliver underarm but that doesn't mean it's a slow roll on the ground. Victoria boasts one of the world's fastest bowlers who can send the ball down at over 100km an hour. Yikes! Most other rules and equipment are the same as used on TV, at the local cricket oval or even at the park, beach or backyard. Why not join in the action and attend the Blind Cricket Open Day?
I've watched Cricket on TV and played it at School. It's REALLY Boring. Why would I want to try the Blind version?
Watching anything is never as much fun as actually doing it. Also at school, it's very hard to get involved in games when you can't always tell what's going on. That's why Blind Cricket is way better! It has been made so that any Vision Impaired or Blind person can play.
I don't understand the rules of ANY kind of Cricket
That's ok. We've got you covered. We're holding an Open Day for new people to come along and give it a try. You will get to meet the different teams and have a go at batting, bowling and fielding.
I have other questions, is there someone I can talk to?
Get in touch with the Victorian Blind Cricket Association's event organiser, Dan Pritchard by emailing him at dan.pritchard@vbca.org.au
Please note change of date to Saturday 6th Novemner.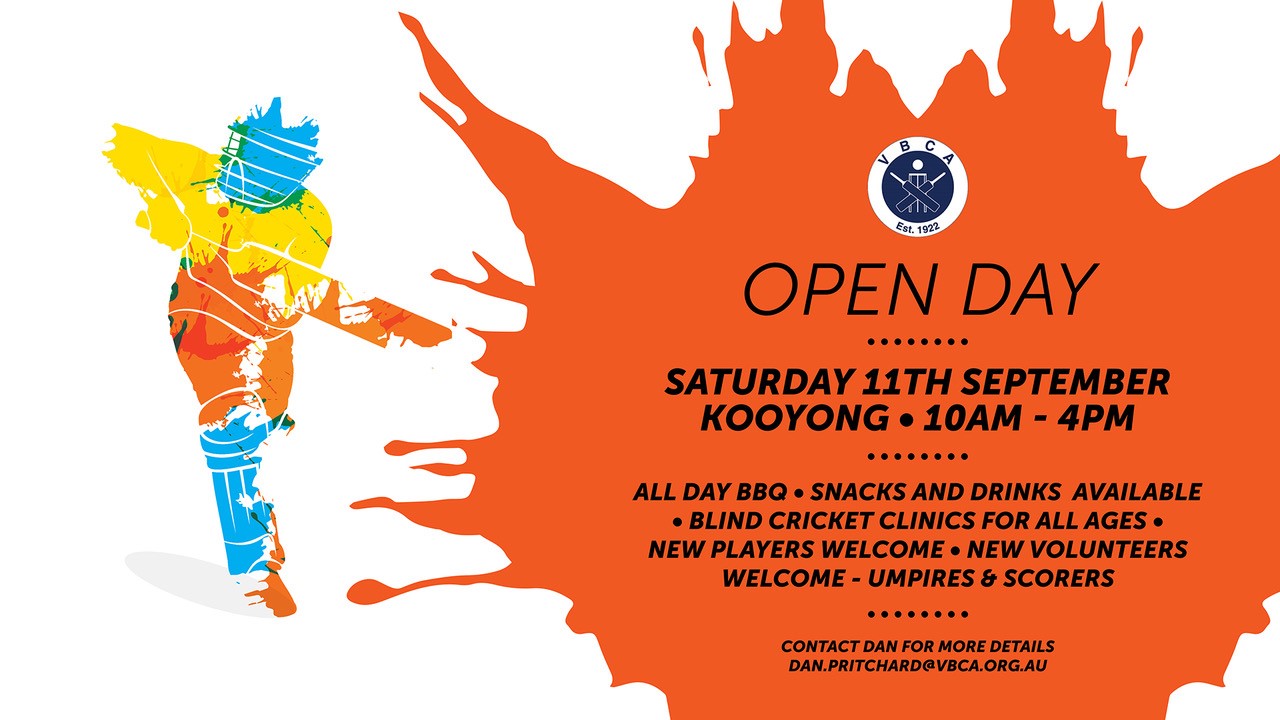 ---