Join the St.Kilda Football Club for their 5 week Blind Auskick program.
The St Kilda Football Club is running a 5-week Blind Auskick program for vision-impaired children aged 5-13 commencing Tuesday July 19 at RSEA Park. Join in.
Starting Session: Tuesday 19th July 2022 (5 Weeks)
Final Session: Tuesday 16th August 2022
Venue: RSEA Park, Moorabbin
Time: 6:00pm to 7:00pm
Cost: FREE
Register link: https://forms.office.com/r/wcTfSQVjAC
Contact: If you require assistance to register or you are having any trouble registering please contact Shannon Jones on shannon.jones@saints.com.au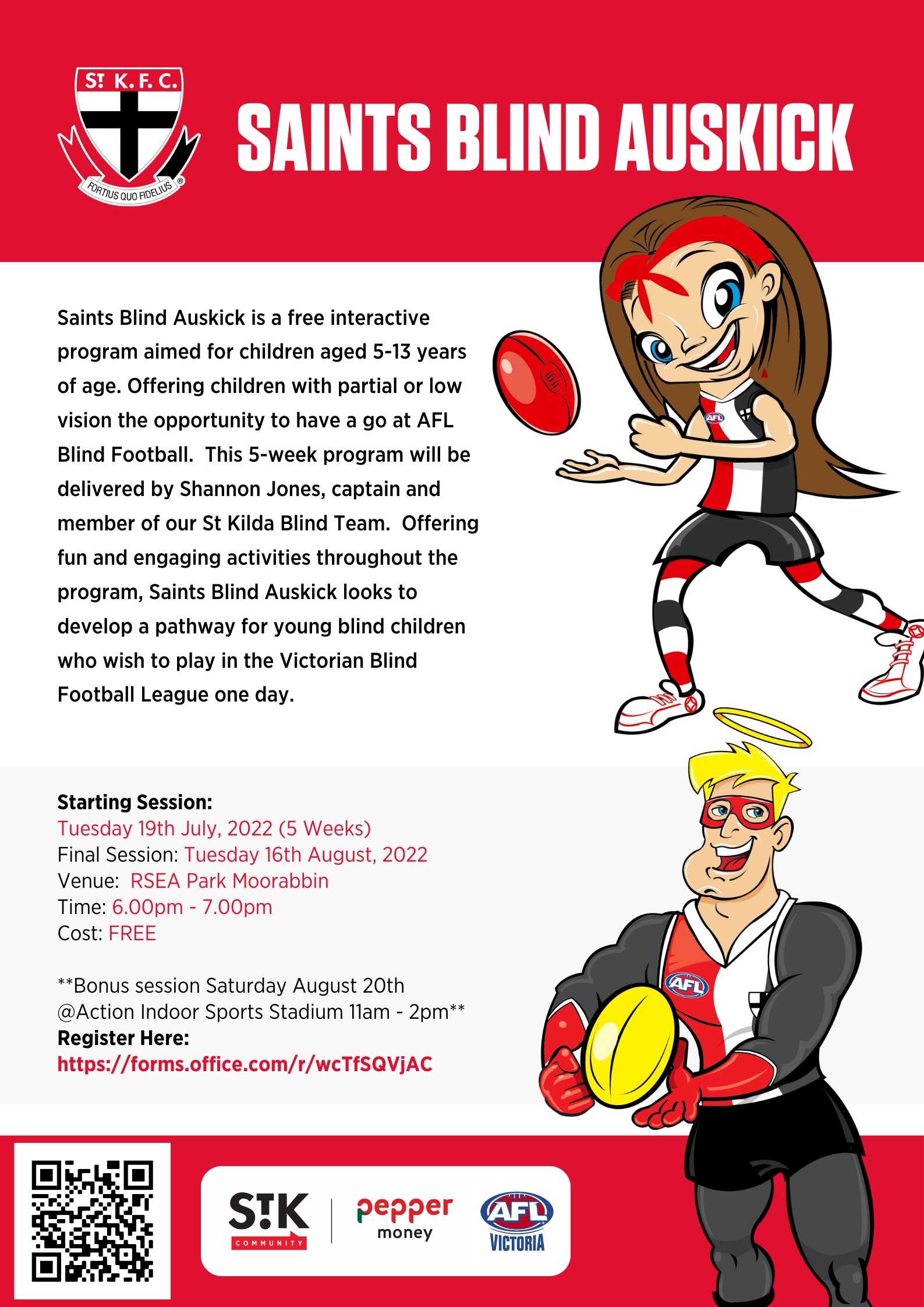 Sign up NOW to the St Kilda AFL Blind Football Auskick Clinics


[Image / Flyer Description: Red header with St Kilda football team logo to left followed by text reading Saints Blind Auskick. Content of flyer reads:
Saints blind auskick is a free interactive program aimed for children aged 5 to 13 years of age. Offering children with partial or low vision the opportunity to have a go at AFL Blind Football. This 5 week program will be delivered by Shannon Jones, captain and member of our St Kilda Blind team. Offering fun and engaging activities throughout the program, Saints Blind Auskick looks to develop a pathway for young blind children who wish to play in the Victorian Blind Football League one day.
To the right of content top cartoon image of girl dressed in Saints jersey about to catch an Australian rules football. Below cartoon character or man dressed in Saints jersey handballing yellow AFL football. On footer is QR code to registration form along with pepper money logo and AFL Victoria logo.]
---