Share your stories and photos to help celebrate 100 years of Blind Cricket.
A century of Blind Cricket.
During this summer of cricket, it is timely to acknowledge the 100 year anniversary of blind cricket, which was first developed in Melbourne, Australia, in 1922.
A special anniversary celebration will take place on Friday 24th March.
Tickets available NOW via Trybooking.
There are limited seats so get your tickets quickly.
We would love people to share their stories and photos to help mark this significant event - a century of blind cricket.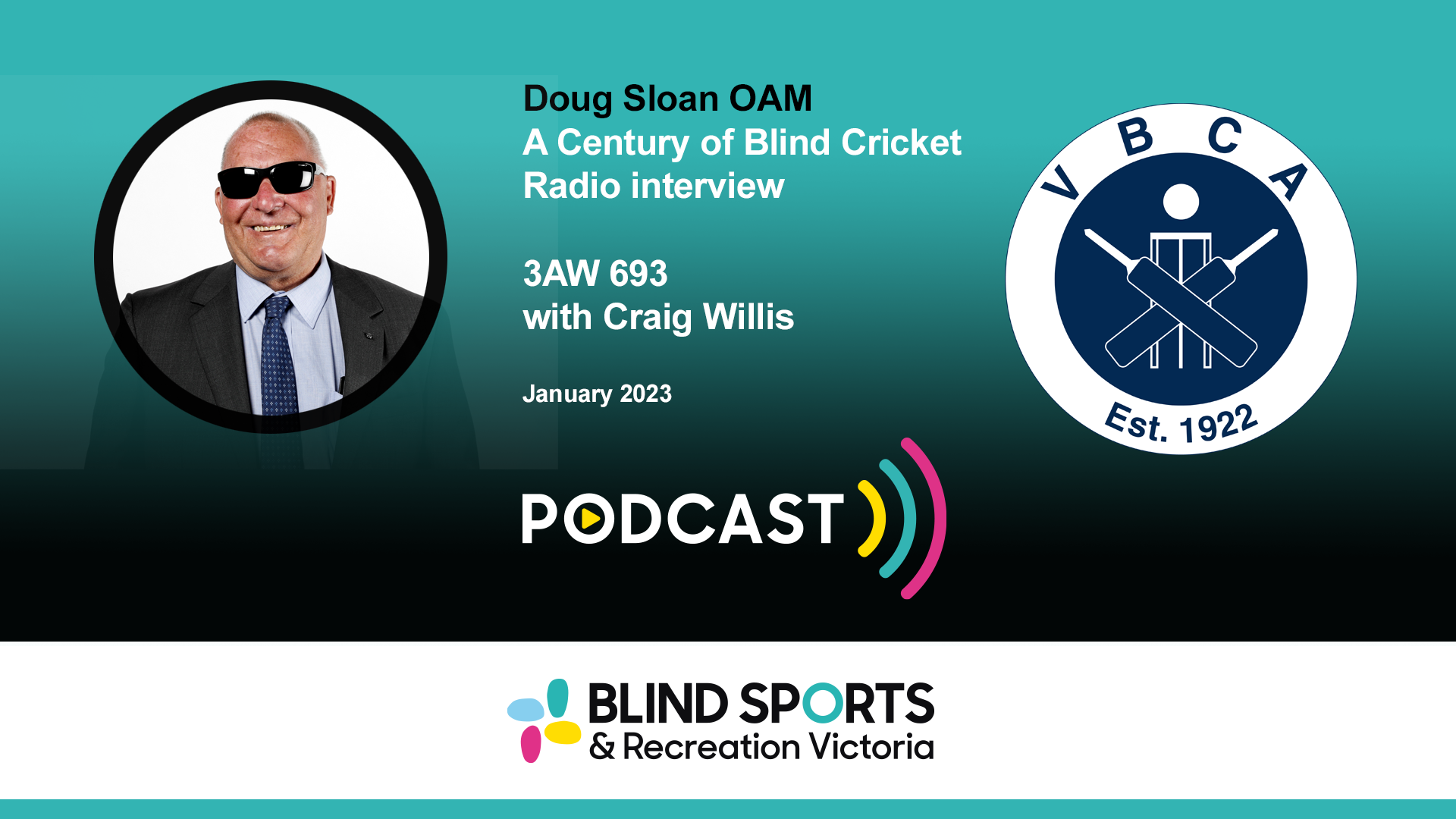 [I.D. Sitting on top of a teal to black gradient background is the circular VBCA logo and a head shot of Doug Sloan placed in a circle. The text reads Doug Sloan OAM. A century of Blind Cricket, radio interview. 3AW 693 with Craig Willis. January 2023. The BSRV logo appears below a podcast graphic with the word podcast and radiating coloured arcs.]
The Game in Action.
The game of Blind Cricket tends to be noisier than a game of sighted cricket.
The game of blind cricket is a version of the game which has been adapted so that it can be played by blind and partially sighted players. The pitch can be synthetic carpert of turf, and it measures the same length and width as used in sighted cricket. The boundaries are measured 40 metres in a circle around the pitch and indicated by a white line with orange witches hats at intervals.
The current ball used is made of white plastic with metal washers inside to give the ball an audible sound when bowled or thrown. The previous ball used was made of black nylon tubing woven around a wire frame. Inside this ball were bottle tops and lead weight to give the ball an audible sound when bowled or thrown. The original ball that was used in the first interstate blind cricket match in 1928 was made of cane wicker and it had metal pieces inside that made a noise when thrown.
All bowling is in underarm. When fielding the ball can be returned either underarm or overarm. The bat is the same as used in sighted cricket. The stumps are made of metal and welded together and coloured either orange or yellow.
When bowling, the bowler is required to ask the batsman if he is ready. If the batsman replies in the affirmative, then the bowler must say "play" as he releases the ball. In addition to this, partially blind bowlers will make use of a caller (usually the wicket keeper). The bowler will call out to the caller, who will call back at the bowler. This process repeats until the bowler is satisfied that he has his aim correct.
To add to all this noise, all umpiring decisions are made verbally in addition to the normal umpiring signals.
---