A sensory exploration of art and design. We Joined In!
An annual event we all look forward to.
We had a sensory feast of exploration of art and design at the Annual Design Fringe Tactile Furniture Tour. Thanks to Vitae Veritas and Nilgun Guven the Melbourne Fringe, Linden New Art, and the artists that generously shared and explained their work. See Alan Bartlett's review below alongside images of attendees interacting with the works.
"A fabulous day of tactile art experiences in St. Kilda's Linden New Art Gallery" By Alan Bartlett.
"We arrived on a full Fringe shuttle bus at the gallery to warm sun, welcome and a chat on the porch of the gallery in front of the enormous front doors, once a symbol of opulence and power.
Led by Nilgun, a super cool tactile audio tour guide and lots of gallery staff, the galleries were soon echoing and swirling with a large group of visitors who are blind or have low vision accessing art in a variety of ways and in a complex and challenging space.
The next hour and a half we were fully immersed exploring art with touch and audio description alongside some of the artists wonderfully presenting their own art. There were 3-dimensional art experiences at every turn. Art that has a tactile thrill design built in.
My hands find and enter a fish-like mouth surrounded by sharp triangular teeth. I was passionately guided in delicate hand touching by Pattie Beerens, of her intricate free form weaving made from clay with Dodder Laurel vine. Feeling humoured touching a CHEEKY chair with a squishy sticky rubbery skin textured lifelike bottom by artist Maryam Moghadam. Encountering Jared Baum's towering 'The Naked Lamp' with its tripod structure and shade individually decorated by friends and family displaying a myriad of elements of different textures and shapes brought an awareness in full 3D of community art creation.
While leaving the gallery space and reflecting on the art I experienced exclusively via sound, movement and touch, I was moved by hope and possibilities of Eight Billion Little Utopias."
Photos and image descriptions courtesy of Shelley Xue and Linden New Art.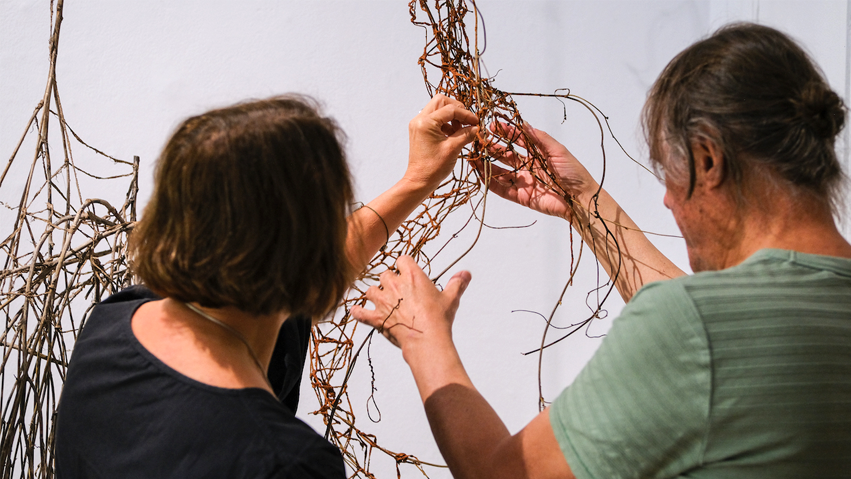 I.D. Alan and Artist Pattie Beerens hands on with their 3 dimensional suspended artwork made of woven cotton fibres and endangered roots of Moonah trees covered in clay called nature 2.0. Handmade intuitively Pattie's process listens and responds to the materials she collects, weaving networks of interconnectedness inscribed in space, and poses a question- Is 'rewilding' an aspirational design concept?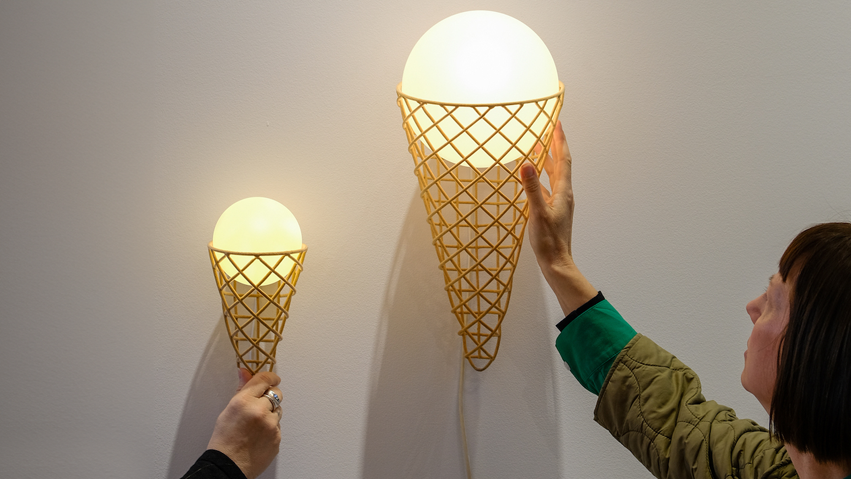 I.D. Two lighting fixtures on the wall in the shape of ice-cream cones called Small Waffles by Artist Ash Allen. One cone larger than the other, 2 people have a hand on each, touching the flocked steel mesh conical shape in which an illuminated rounded light bulb sits like a scoop of ice-cream on top.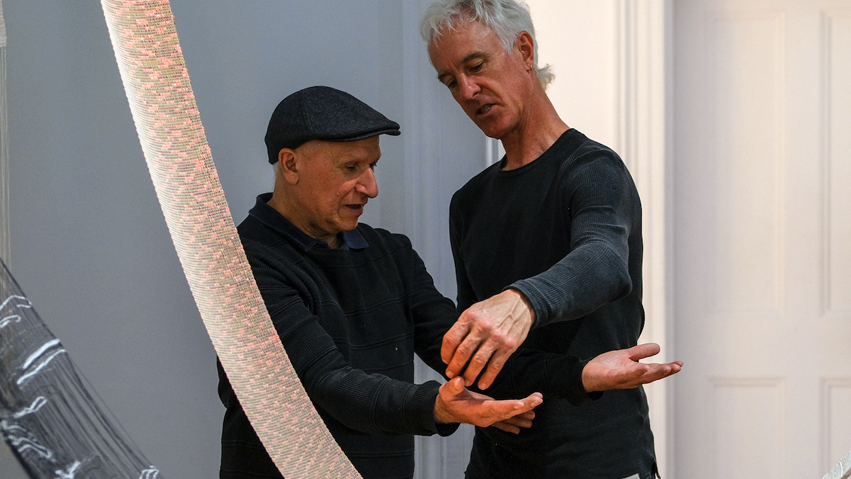 I.D. Behind the suspended lengths of woven textile drapes, that float like ethereal forms in mid-air, Rocky, alongside a volunteer, is holding out their arms bent at the elbows, palms facing up, to simulate the way these suspended forms are presented, and to sense the quality and meaning they evoke. Called 'that awaits at the end of life' Artist Jacky Cheng's work is about death, ritual, respect and memory.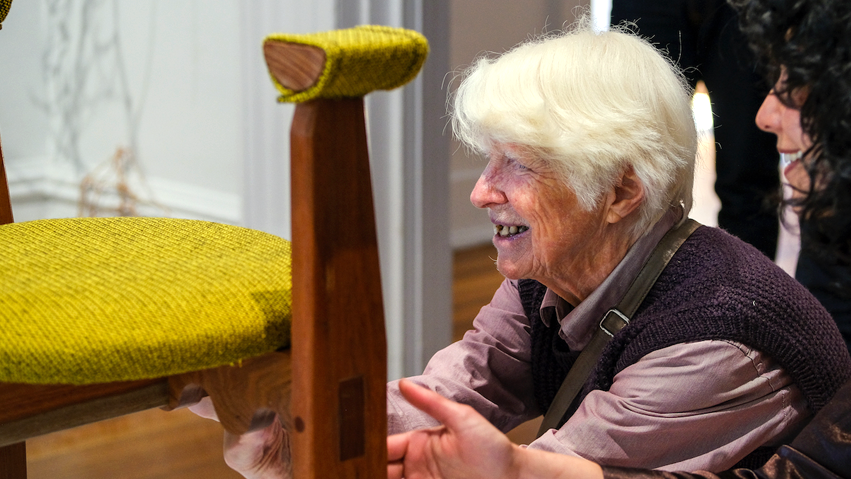 I.D. Barb and artist Maryam with their dining chair made from green upholstery and spotted gum timber, is robust as the aunt the object is named after Ioanna, with proud back and arm rests that make one sit tall, a piece that exemplifies the future of sustainable furniture design practices that makes use of waste and offcuts.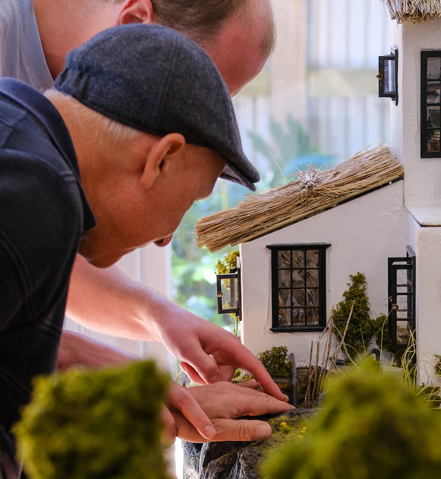 I.D. Rocky and Liam from Linden hands on with Bonnie Lee's miniature model called Planet A made of wood, repurposed landfill, doll house furniture, peat moss and live plants, a fictional world set in 2080 when a nuclear war has split the earth into small yet still inhabitable parts, they gently touch the rocky landscape and foliage in front of the white dwelling with black framed windows.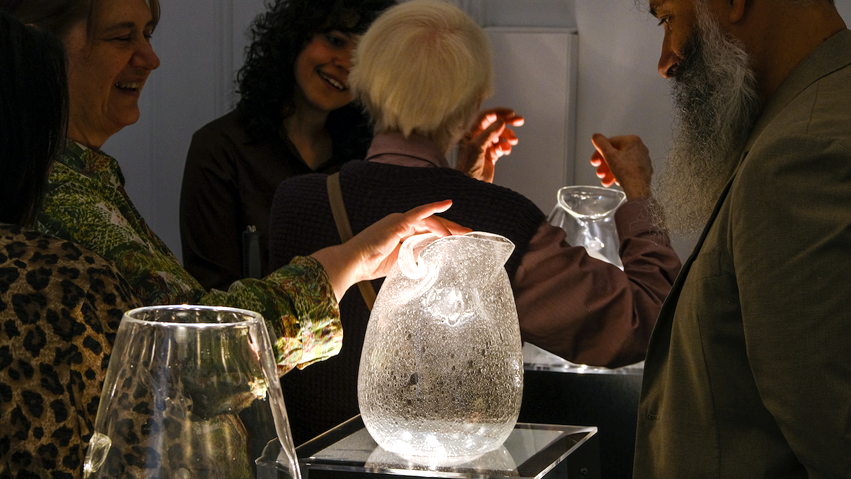 I.D. Jean and Vince in foreground, Barb and artist Maryam in background are in the upstairs gallery at Linden experiencing the distorted shaped glass vases of Ilan El's works called Cannons of Hope, whose forms have been deformed through a process of overheating stress, and is an expression of the artist's military service and tribute to the human spirit.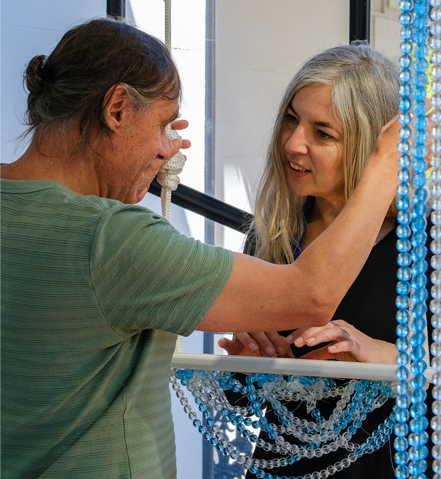 I.D. Alan and Nilgun standing and chatting hands on in the blue baubled meditative and playful world of Susan Lincoln's The Swing (Light, Water, Cloud), made from transparent light reflecting strands of blue and clear crystal beads strung and hung from the ceiling, where the artist offers an alternative downtime space in the workplace to spark excitement, freedom and fun and recollections of childhood in nature.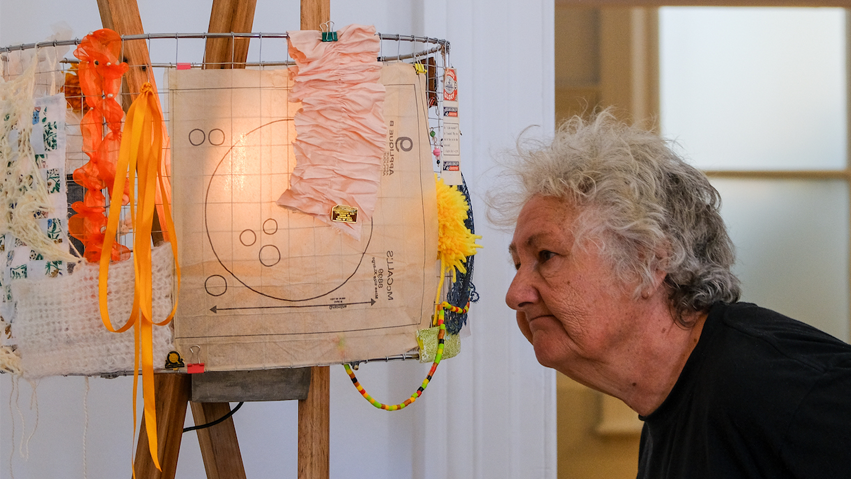 I.D. One of Jane's favourites, they are up close with a lampshade called The Naked Lamp made with timber, wire and recycled objects such as beaded necklaces, ribbons, knitted squares, patches, magazine pages with black text and soft toys. The Naked Lamp was decorated by family and friends of the artists involved Baum, Radford and Heintze, who invite others to bring community together to create and connect to celebrate the individuality of difference from the collective.
---