A sweet holiday activity. We joined in!
A fun holiday baking workshop. We baked, played and ate!
Blind Sports & Recreation Victoria joined forces with Chef, Susan Yarrow, from Gourmet Kids to put on a fun baking workshop for young people with vision loss on the last weekend of the September school holidays.
Set in a lovely home economics room within Brunswick South Primary School, six excited children donned white aprons and hats, and quickly got to work on making an Upside-down Pineapple and Cherry Cake.
While chatter ensued, important cooking skills were being learnt, like creaming butter and sugar, measuring out flour and cracking eggs. Sticky fingers and well-licked spatulas concluded the baking experience, but while the cakes were cooking, the kids took off with explosive energy to explore the play equipment outside. Wonderfully, parents used this bit of respite to sip tea in the sun and socialise together.
This event was made possible thanks to the VicHealth JumpStart! program.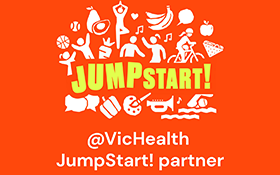 ---