A wonderful Morning Tea to celebrate the BSRV community.
With a generous spirit many things can be achieved.
BSRV's morning tea on Tuesday 14 December celebrated the successes and achievements of our Board members, newly appointed Ambassadors, participants and volunteers, following a challenging few years for us all.
Held in the Mayor's Room at the Hawthorn Arts Centre, the event was an opportunity to reconnect and thank all those who work hard to improve and support sport, recreation and cultural opportunities for people who are blind or vision impaired in our community.
Following a Welcome by MC, BSRV Volunteer Doug Sloan OAM and introduction by BSRV President, Maurice Gleeson OAM, the Mayor of City of Boroondara, Councillor Jane Addis highlighted the many awards that BSRV was honoured to receive in 2021. In her speech, Councillor Addis focused on the invaluable contribution that volunteers bring to organisations like BSRV and thanked all those who have donated their time and skills.
A great example of this volunteer commitment is BSRV's newly appointed Ambassadors, who are helping to raise awareness of BSRV and its programs through a range of community and media activities and events. Those who were able to join us at the morning tea, each received a framed certificate, recognising their commitment and enthusiasm, presented by Councillor Addis. Thank you to all of the Ambassadors, who will soon be profiled on BSRV's website, as part of their promotional activities.
We were then delighted to welcome Tennis Victoria Chief Executive Officer, Adam Crameri to speak. Mr Crameri presented the BSRV Blind Tennis Team with the award for the Most Outstanding Inclusion Initiative. He then presented Maurice Gleeson with the 2021 Spirit of Tennis Award and spoke of his outstanding efforts in raising the profile of and advancing blind tennis in Victoria - through media interviews, program expansion and pathway development, as well as his role as President of the International Blind Tennis Association.
To reinforce how this program development has benefited young people with vision loss, we then heard from David Morris, a young participant in BSRV's children's blind swimming and tennis programs. David and his father, Andrew, highlighted the progress, development and achievements that David has enjoyed by being involved in blind sports. Thank you to our many supporters and funders for making our range of blind sport and recreation programs possible.
A final highlight of the celebration event was a video prepared by BSRV Patron, ABC TV presenter, Charlie Pickering, congratulating Maurice on receiving the Spirit of Tennis Award and paying homage to his many achievements over such a long period.
Complementing the Spirit of Tennis award, was the spirit of togetherness in the Mayor's Room, as we all reflected on the dedication, individual journeys, trials and tribulations we have been through together over the years.
Awards
BSRV Vice-President, Gillian Manson – Higgins Volunteer of the Year Award
BSRV Secretary, Kaye Speed

Order of Australia Medal for services to people who are blind/vision impaired
Disability Sport and Recreation (DSR) Victoria Lifetime Achievement Award.

BSRV Volunteer, Samir Mahir – DSRV Volunteer of the Year award
BSRV President, Maurice Gleeson – Victorian Disability Awards, Lifetime Achievement Honour Roll from Department of Health and Human Services.
BSRV Ambassadors
Tegan Allen
Chris Cypreou
Phoebe David
Terry Dreier
Wanda Egerton
Adam Fayad
Shannon Jones
Silvana Pavlovic
Genamarie Richards
Anushka Singh
Doug Sloan AM
Carol Unger
Jason Whiter
A selection of photos taken at the Celebration Morning Tea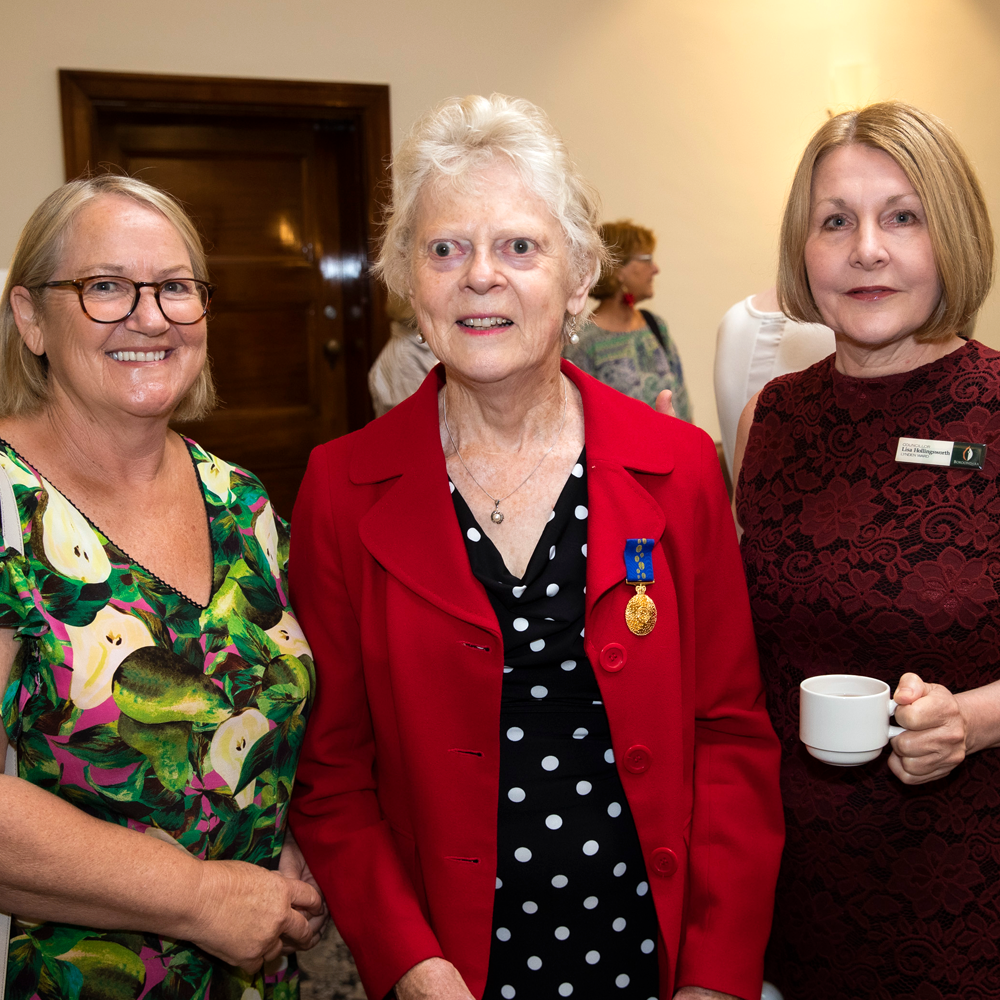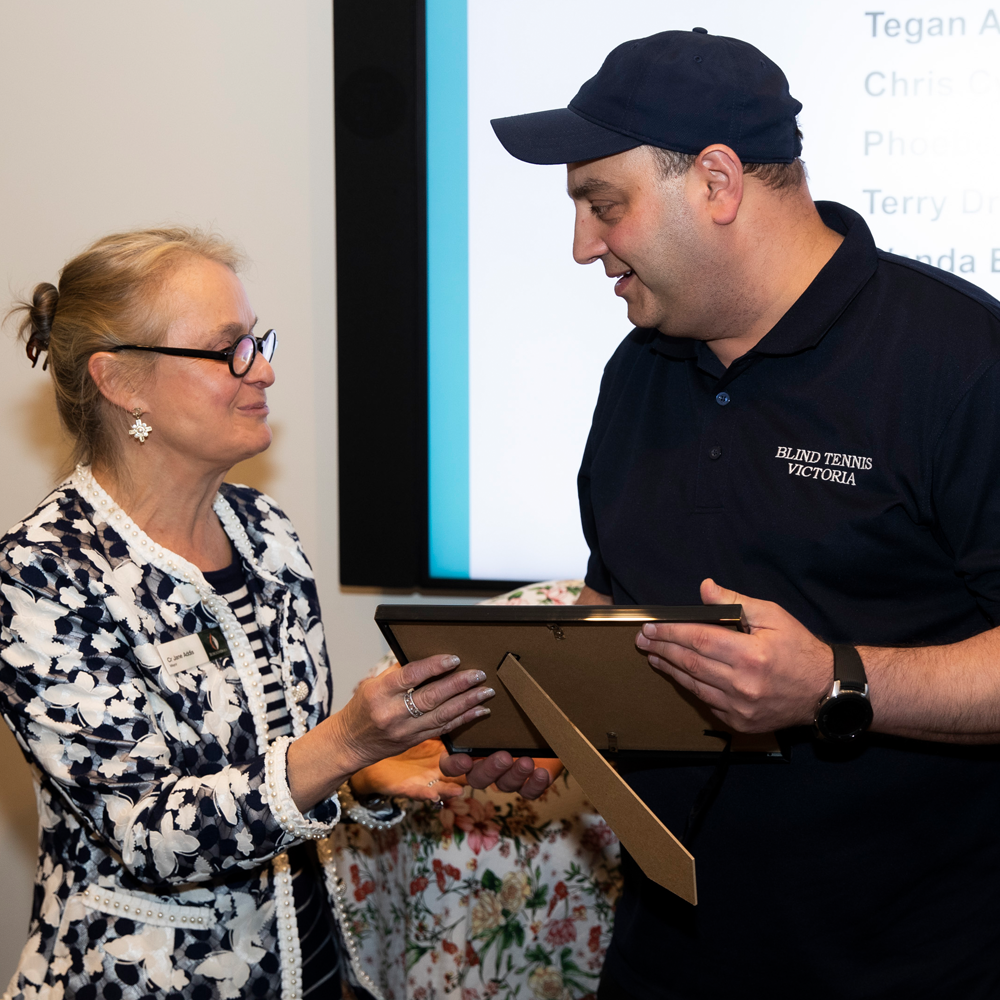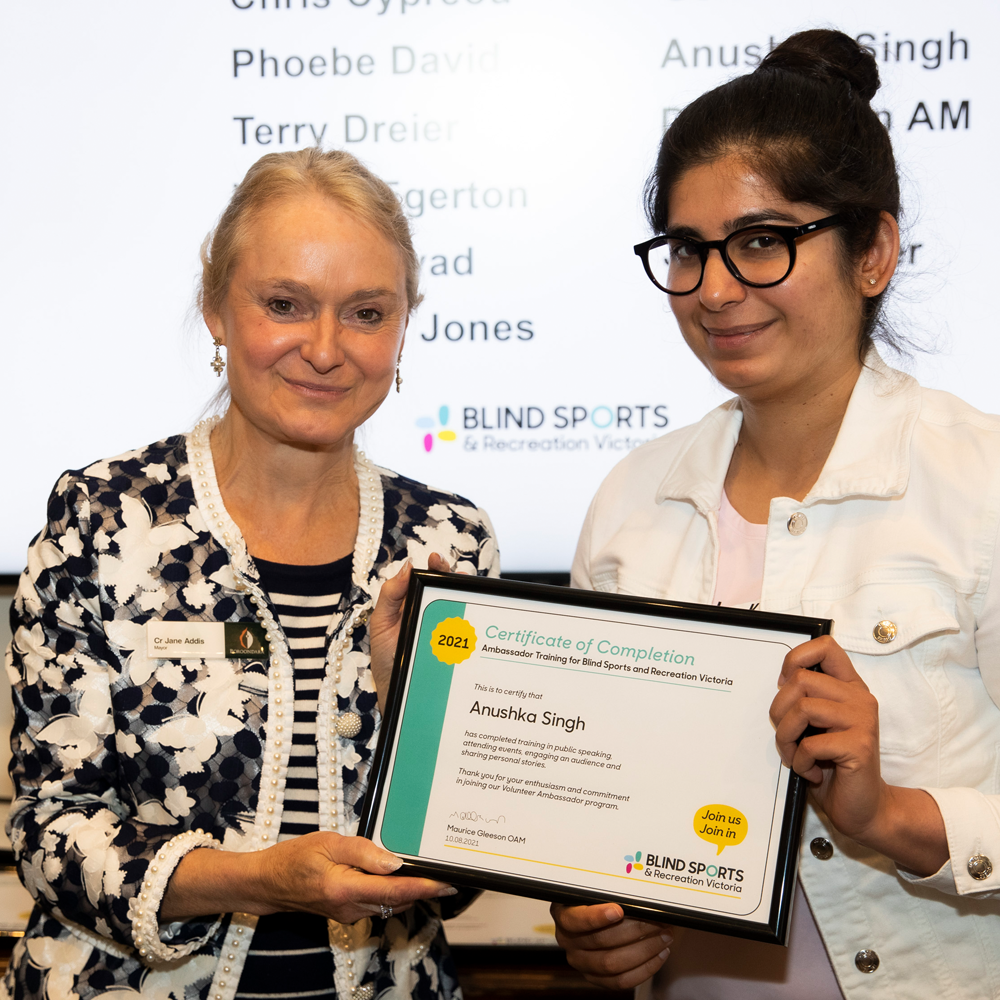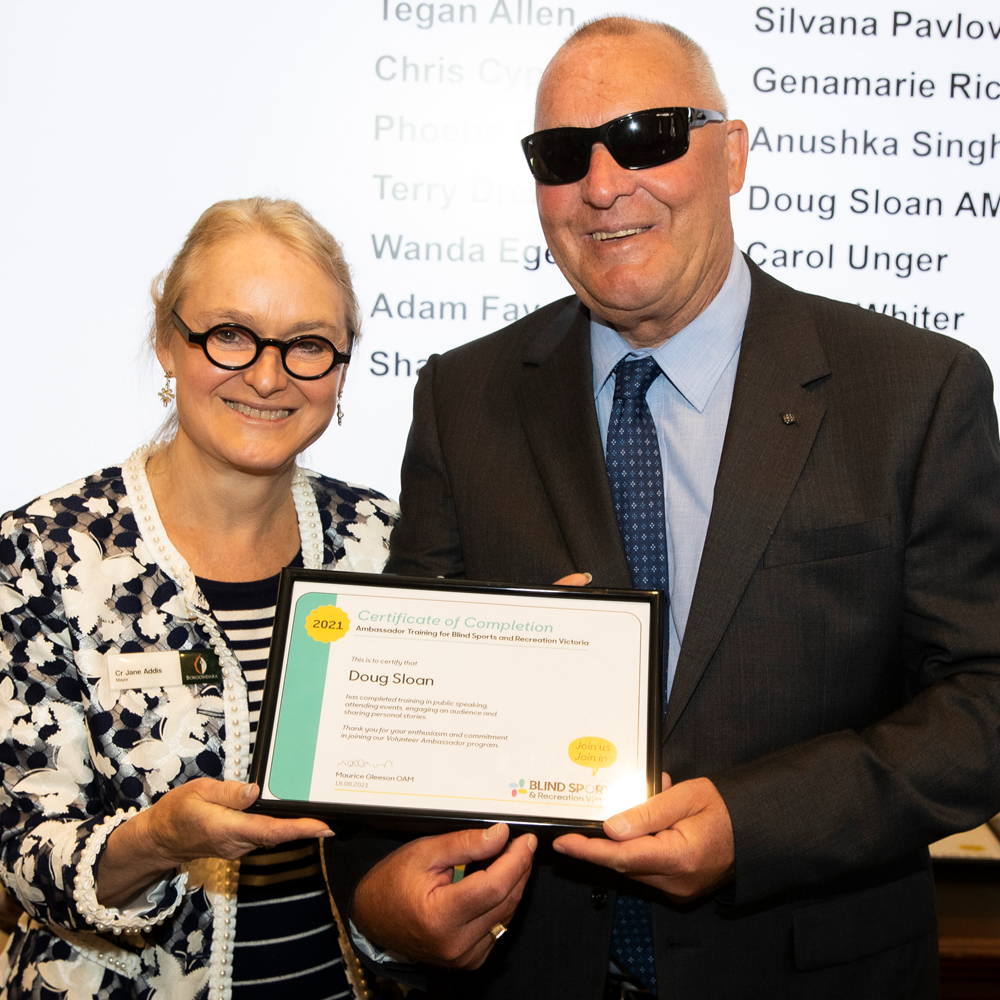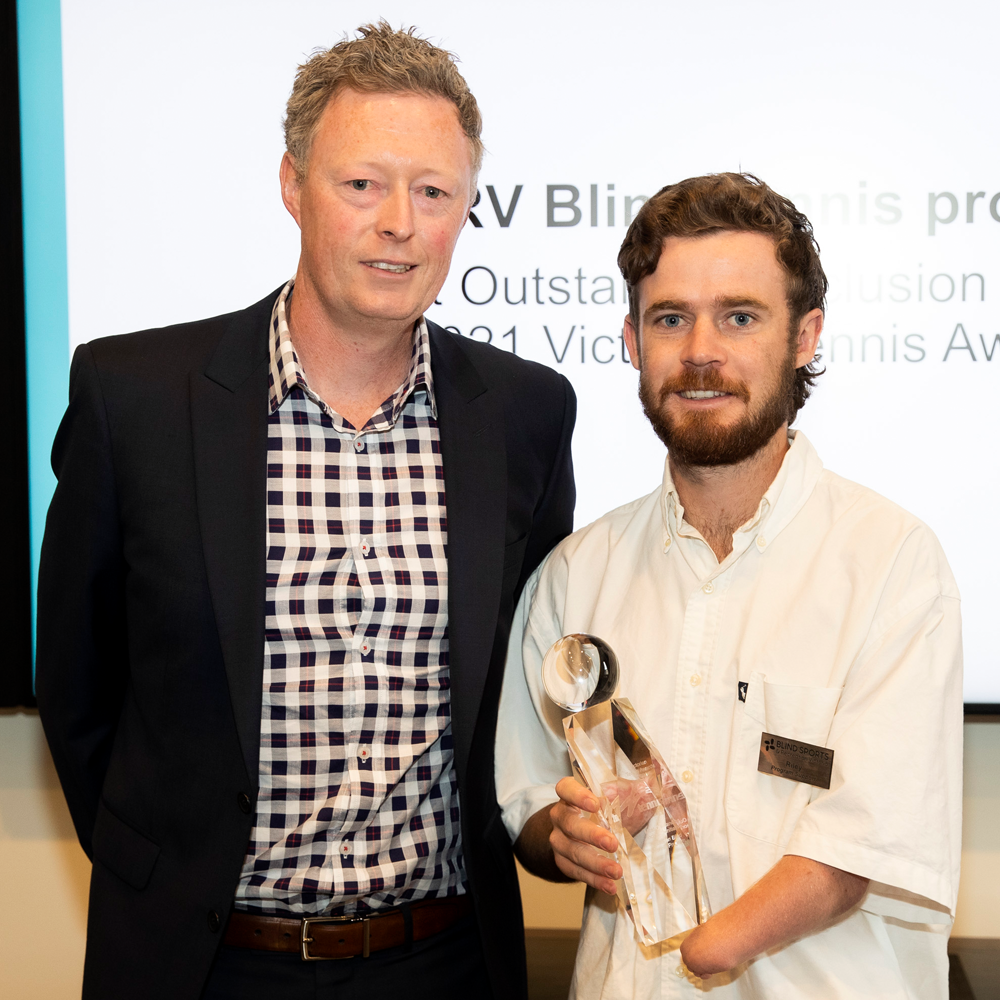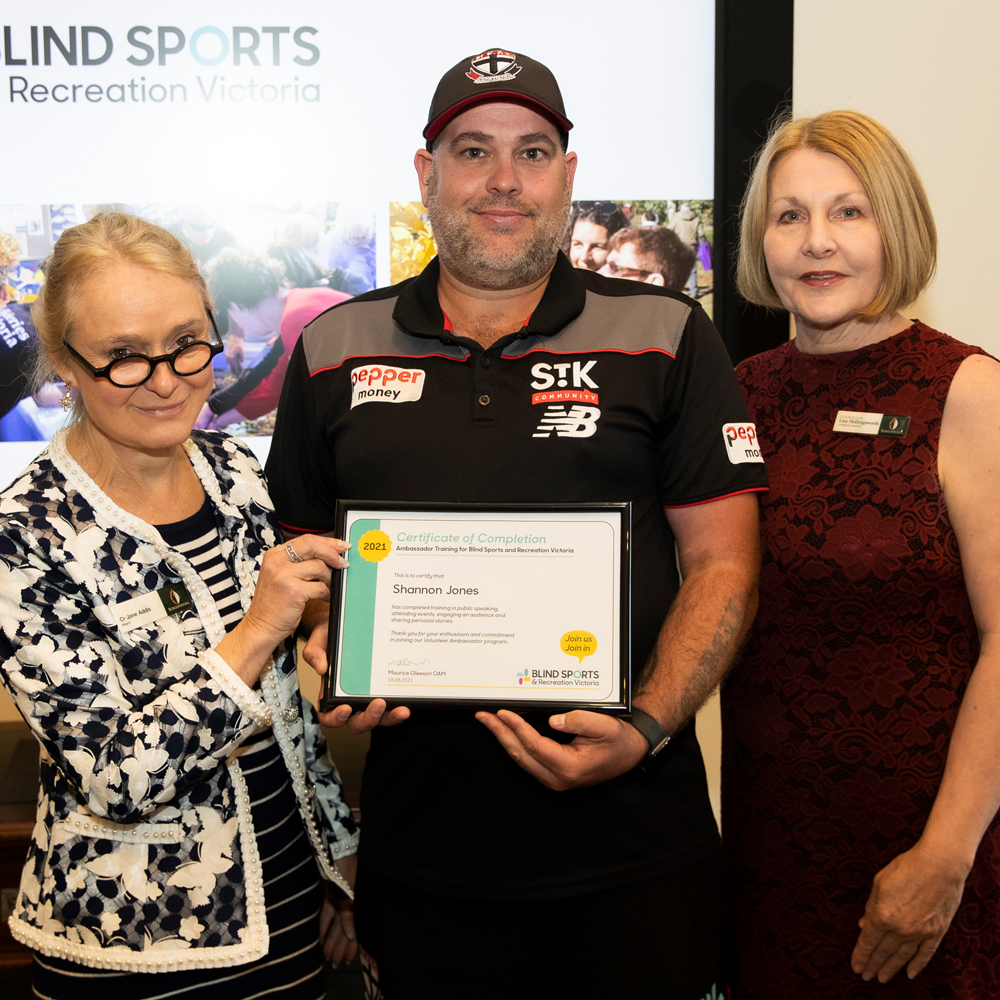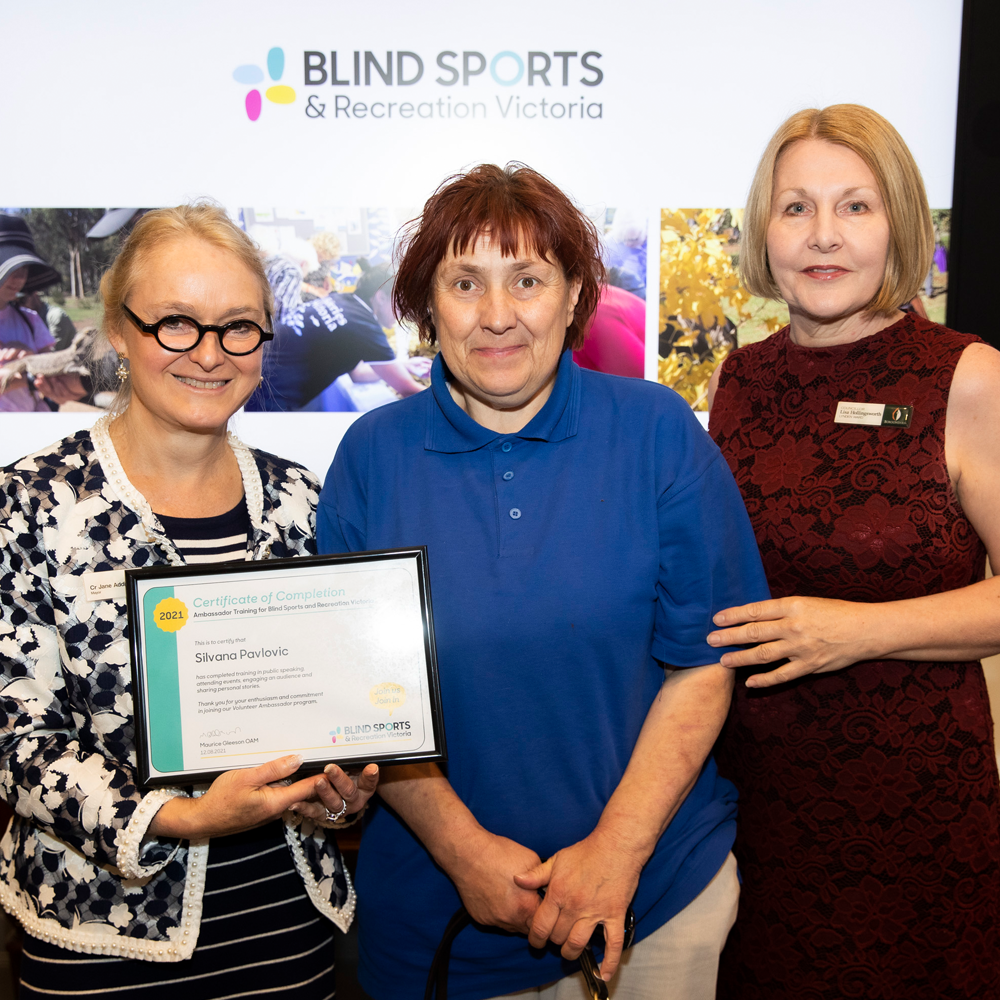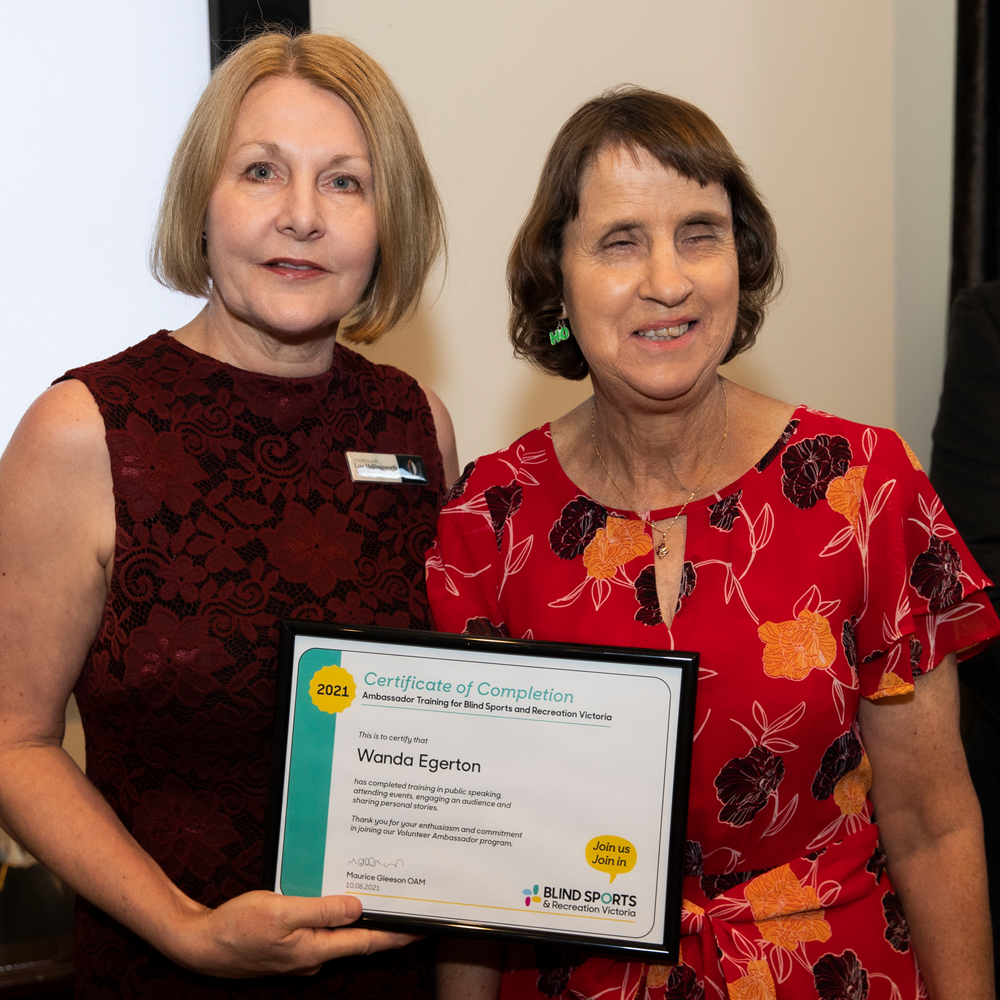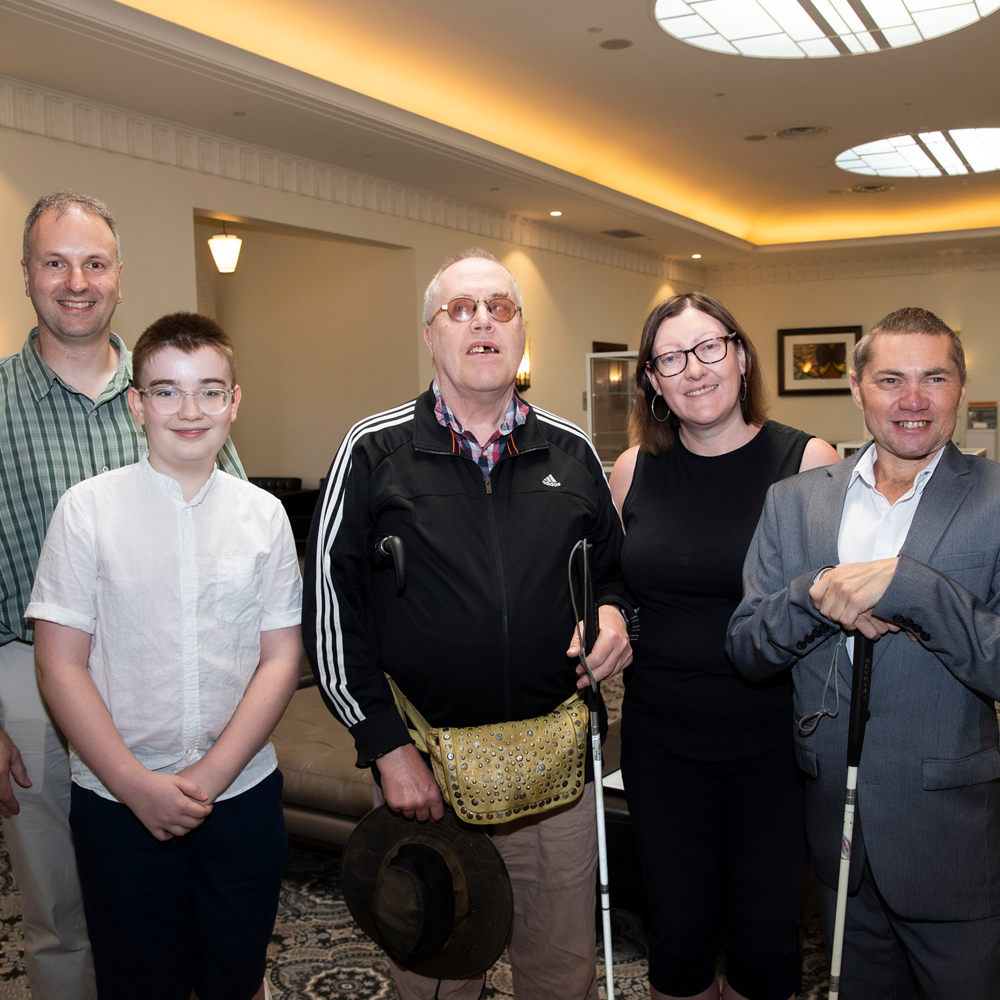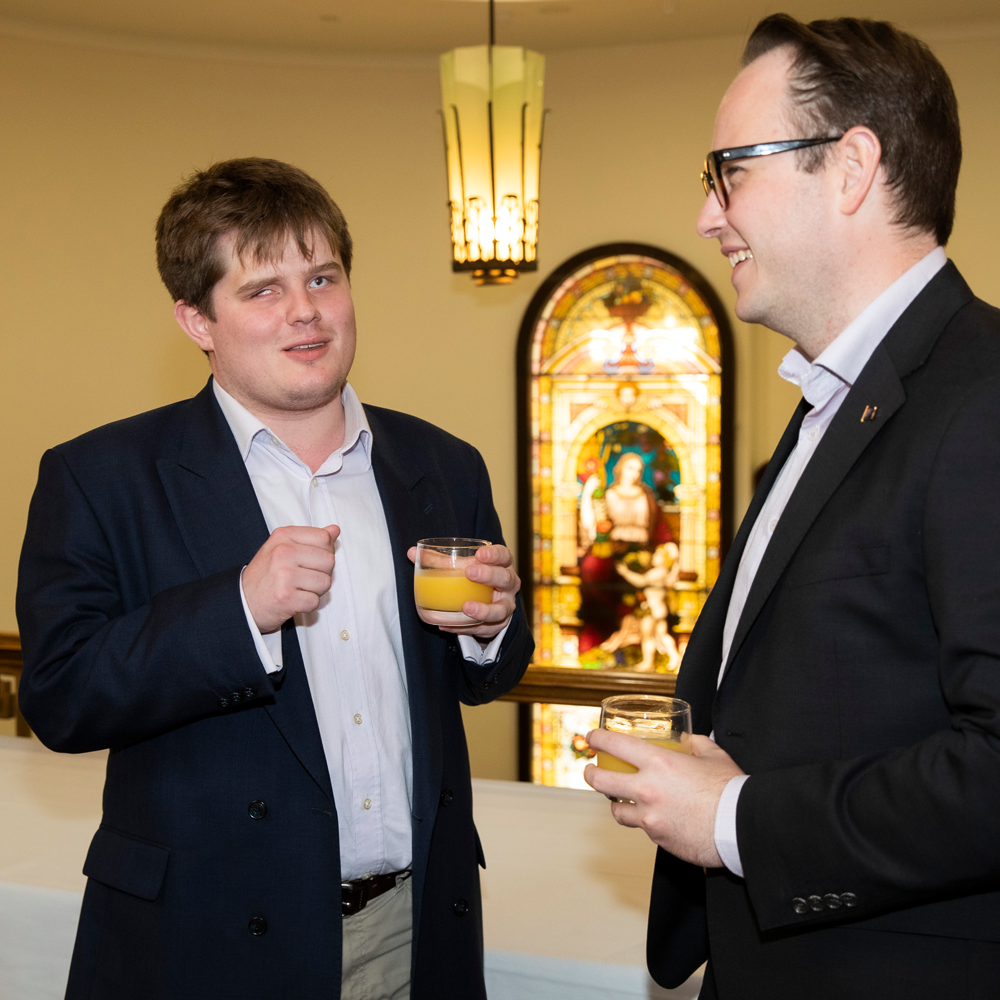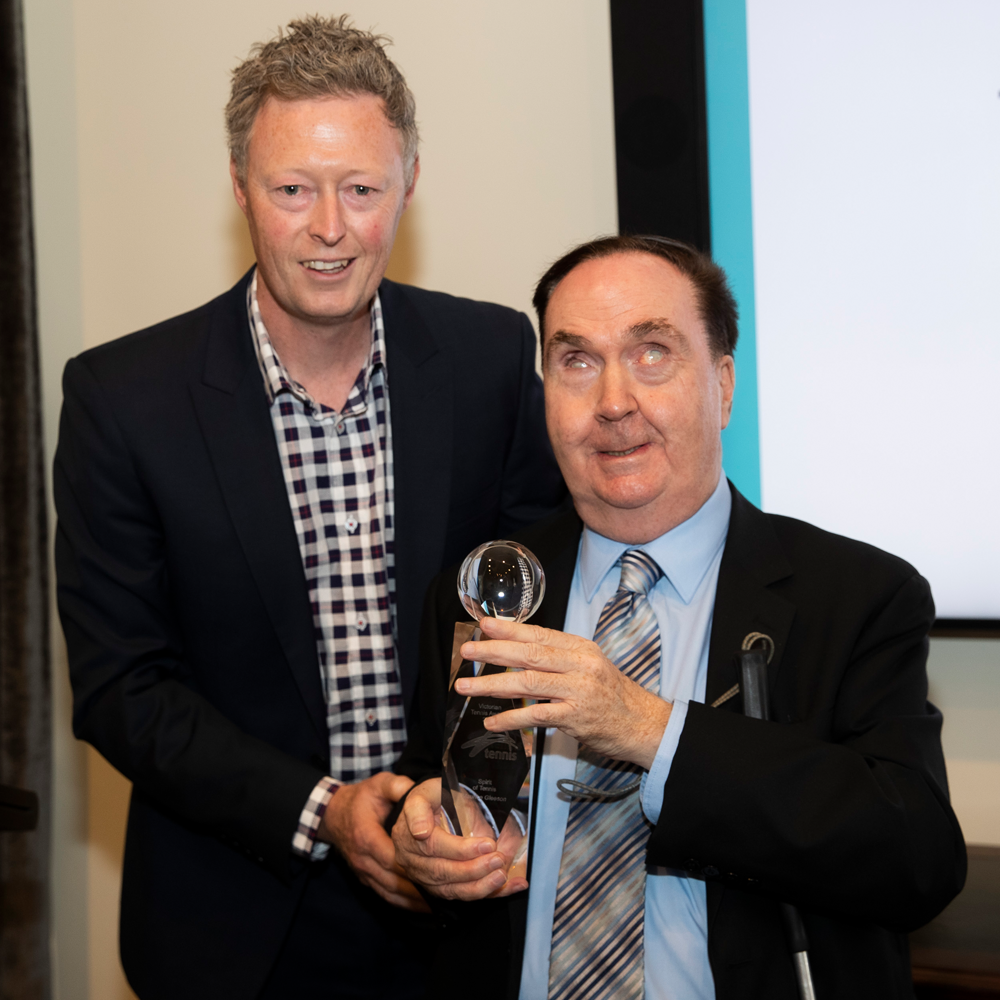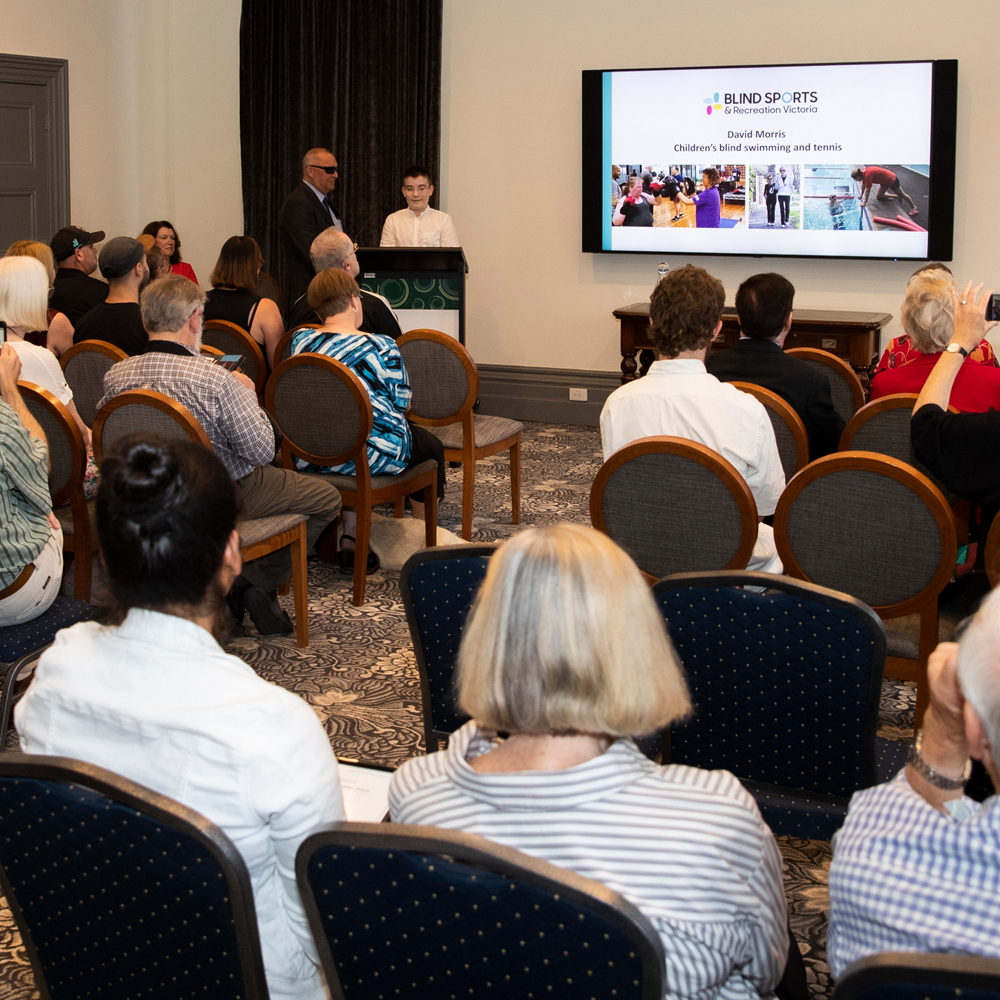 ---