A wonderful three day trip to Ballarat - We joined in!
A fun packed visit to Ballarat in June was a great opportunity to explore and learn about history, the local environment and ourselves! It was great to meet up with old and new friends.
Jenny Dodd, one of our lovely Program Managers, wrote a fantastic report about this three day trip. Read on...
Ballarat Botanical Gardens.
After lunch on Day one (at Pipers Café, Lake Wendouree) our group headed off to enjoy the Ballarat Botanical Gardens. One of Australia's most significant cool climate gardens, it features a remarkable collection of mature trees and marble statues set amongst colourful bedding displays. There was an exceptional collection of exotic conifer, deciduous and native trees featured throughout the Gardens. These trees have now reached a considerable size and contribute to the Gardens charm and character. Of these, some 52 mature trees are listed on the National Trust Significant Trees Register.
What does a Prime Minister's face feel like?
While at the Botanical Gardens, the BSRV group enjoyed feeling the heads of prime ministers while volunteers gave them clues – John (BSRV volunteer) and Stephen (BSRV participant) were a great team together, enjoying many political discussions along the way. Stephen requested a picture of him and his wife Vicki, with Australia's 27th PM Julia Gillard, as he greatly admired her.
Others had laughs about some of the prime ministers' features which were a little exaggerated, especially Bob Hawke.
The Prime Ministers Avenue is a feature of national significance, set in the magnificent Horse Chestnut Avenue of the Gardens. The 28 Prime Ministers of Australia are displayed as bronze sculpture portraits mounted on polished granite pedestals. The collection includes a portrait of one of the founding fathers of Federation, Alfred Deakin, who was the first Federal Member for Ballarat and the second Prime Minister.
Parks Victoria dementia-friendly forest and sensory trail.
This trail was co-designed with the community to be friendly for people of all abilities and those with dementia. Generally considered an easy route, it takes an average of 48 min to complete. This trail is great for birding, hiking, and walking. The compacted gravel trail is accessible for people of all abilities, assistance dogs, wheelchairs and walkers, via the entry of the park on Katy Ryans Road, just near Elsworth Street.
The trail is designed to evoke positive memories, feelings and sensations for people living with dementia by providing an inclusive way to see, smell, touch and hear nature. The trail has wetlands, a boardwalk, and a range of different areas with large rocks for people with dementia, their carers, friends, and families, or other visiting community groups can stop to rest.
Our Parks Victoria guides Siobhan and Alex welcomed our group to the Sensory Trail, they were inspiring guides and really helped us understand all the features of the trail. The weather was kind to us and our group had a great time, some saying they would love to return in the Spring.
Art Gallery of Ballarat.
We attended the Art Gallery of Ballarat before heading back home to Melbourne to experience a very fascinating exhibition. We expected a short in and out visit to this gallery as art is not a big draw card for people with vision loss, however this art gallery was bigger and offered some really interesting exhibitions.
'A fanciful Feast' by Trevor Smith was a delight for our group. South Australian textile artist Trevor Smith was taught to crochet by his mother Jean in the 1960s. After training in sculpture, he returned to crochet after participating in a Regional Arts Victoria project in 2009.
His quirky and inventive crochet sculptures stem from his interest in costume, characters, fashion, culture and history and push the boundaries of crochet in a move from functional items to creative artworks.
The Art Gallery of Ballarat commissioned Smith to respond to the Lindsay family collection and Sitting Room. This body of work reflects on the era when the Lindsay family were living in Creswick through crocheted sculptures including food, flowers and dolls, and other everyday objects.
The Mechanics Institute.
We did the magnificent tour of The Mechanics' Institute – a place that is considered to be a part of the historical and cultural heart of Ballarat CBD. Katrina and Marilyn told us that our tour was the first one they had ever had with people who are blind/vision impaired. They really offered a wonderful experience for our group with tours of the Library, Reading Room and the Theatre with a poem recital by Katrina of 'Clancy of the Overflow'.
We were very grateful for the effort they made to ensure our group enjoyed the tour with offering sensory activities - feeling and smelling historic books and describing history of the gold rush era. We finished off our visit with tea & coffee along with much discussion of our tour.
Stephen, BSRV Blind participant.
I particularly enjoyed the Prime Ministers Avenue Walk and the Mechanics Institute tour. The Botanical Gardens guides clearly prepared thoroughly. Their explanations were clear, concise and informing. We were made to feel very welcome. The same can also be said for the Mechanics Institute hosts. We had a great three days. Thanks for the opportunity to experience it.


Carmel, BSRV volunteer.
The trip definitely created a greater level of social connectedness. By spending more time together than a day trip provides, there were longer conversations, sharing of stories and experiences, greater understanding of each other and lots of laughs and fun.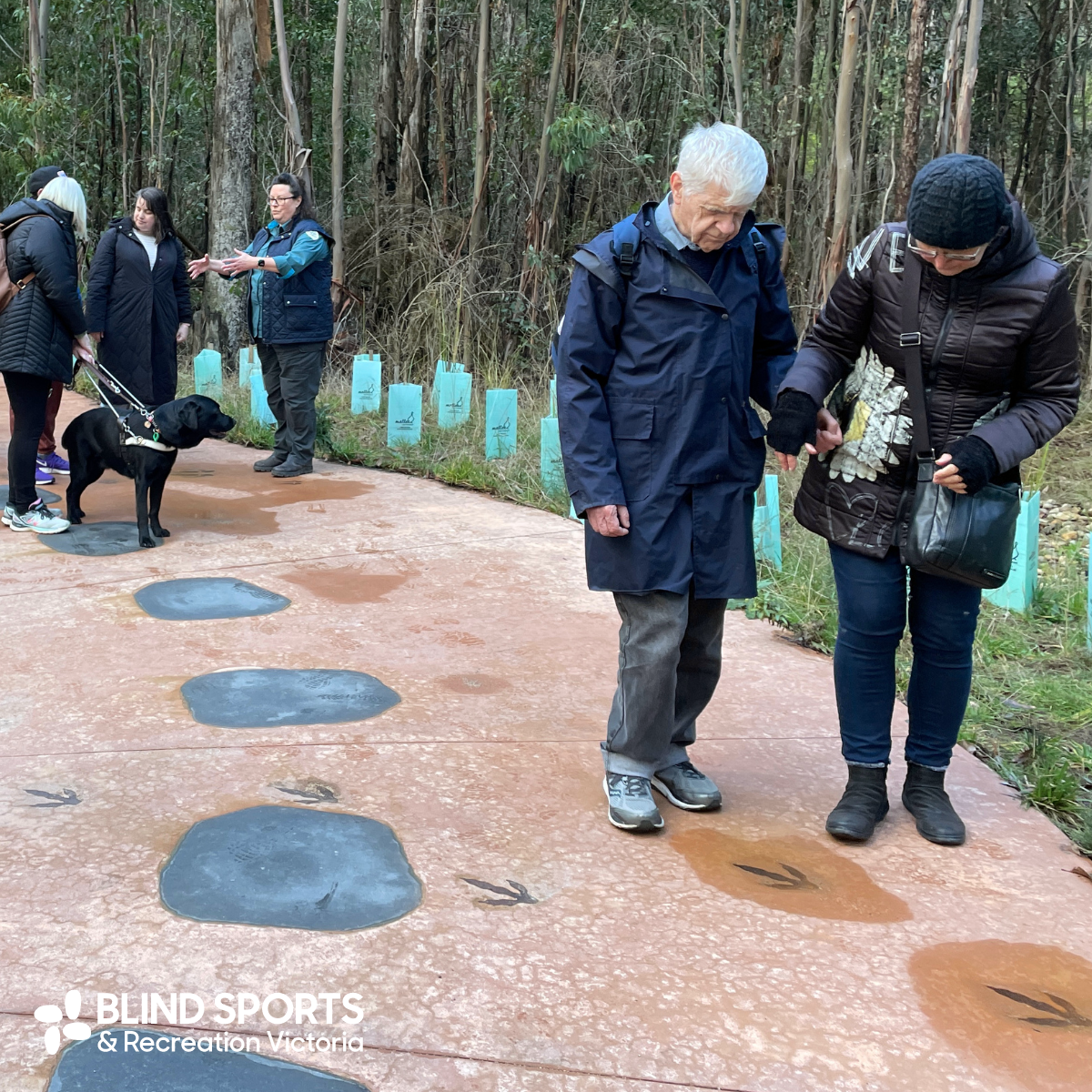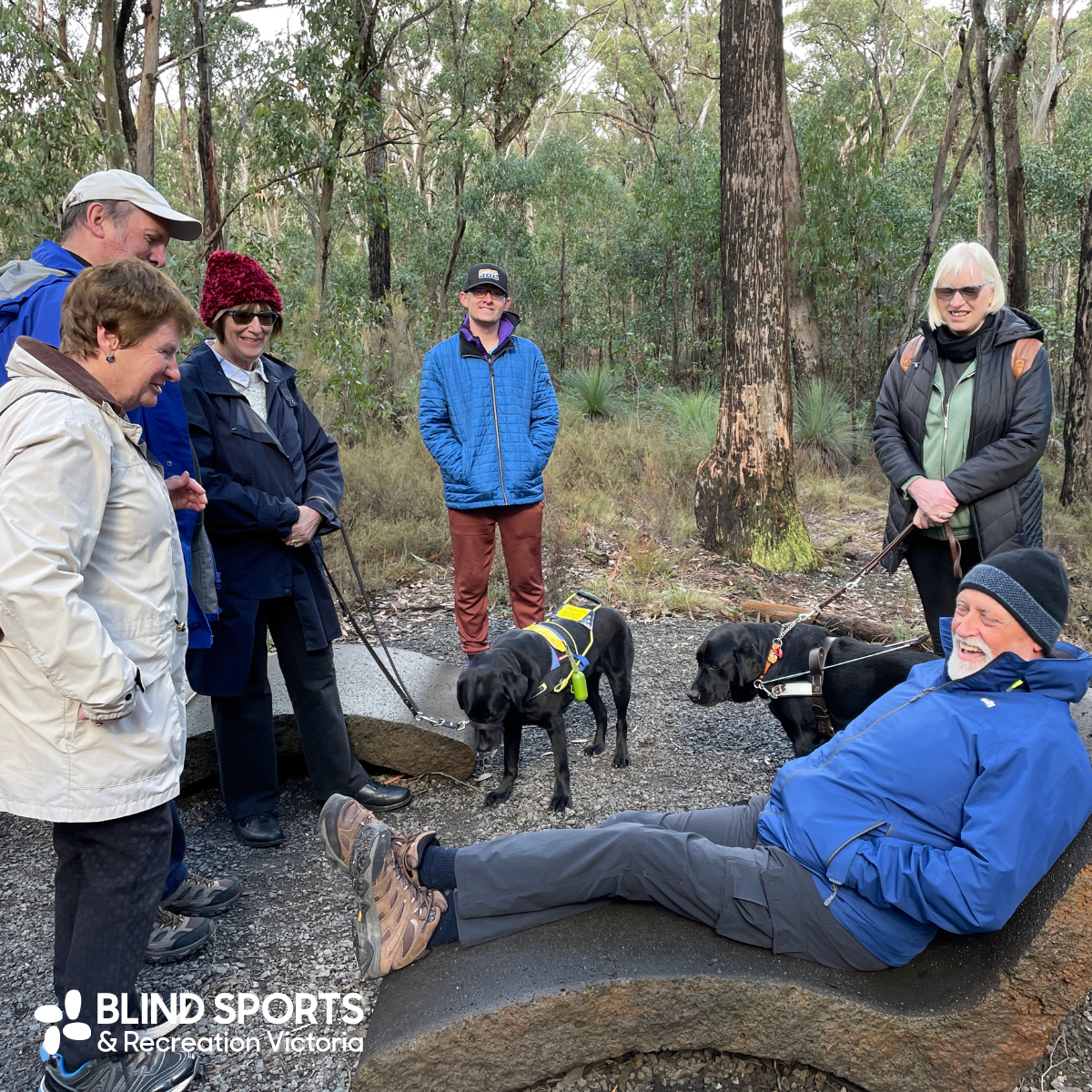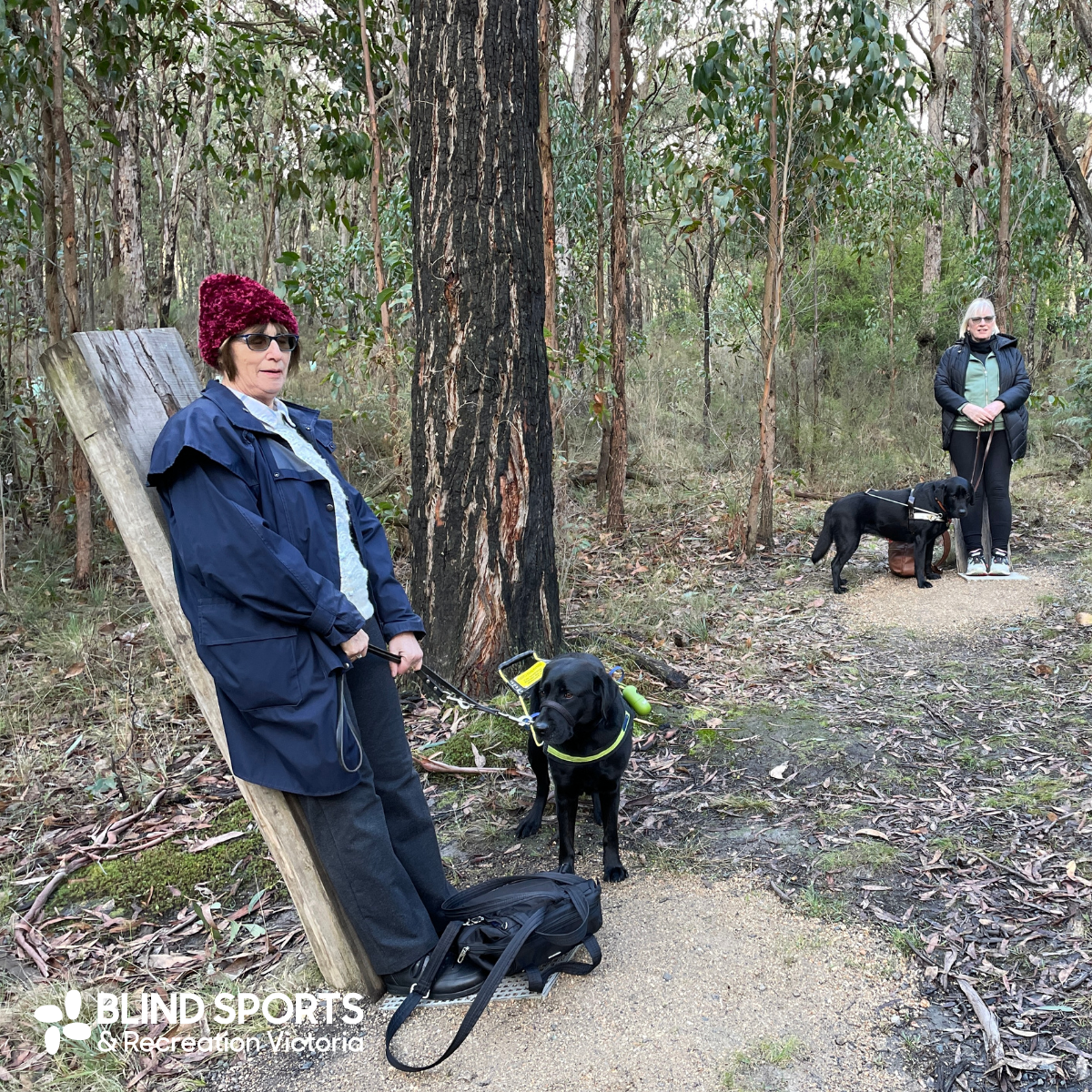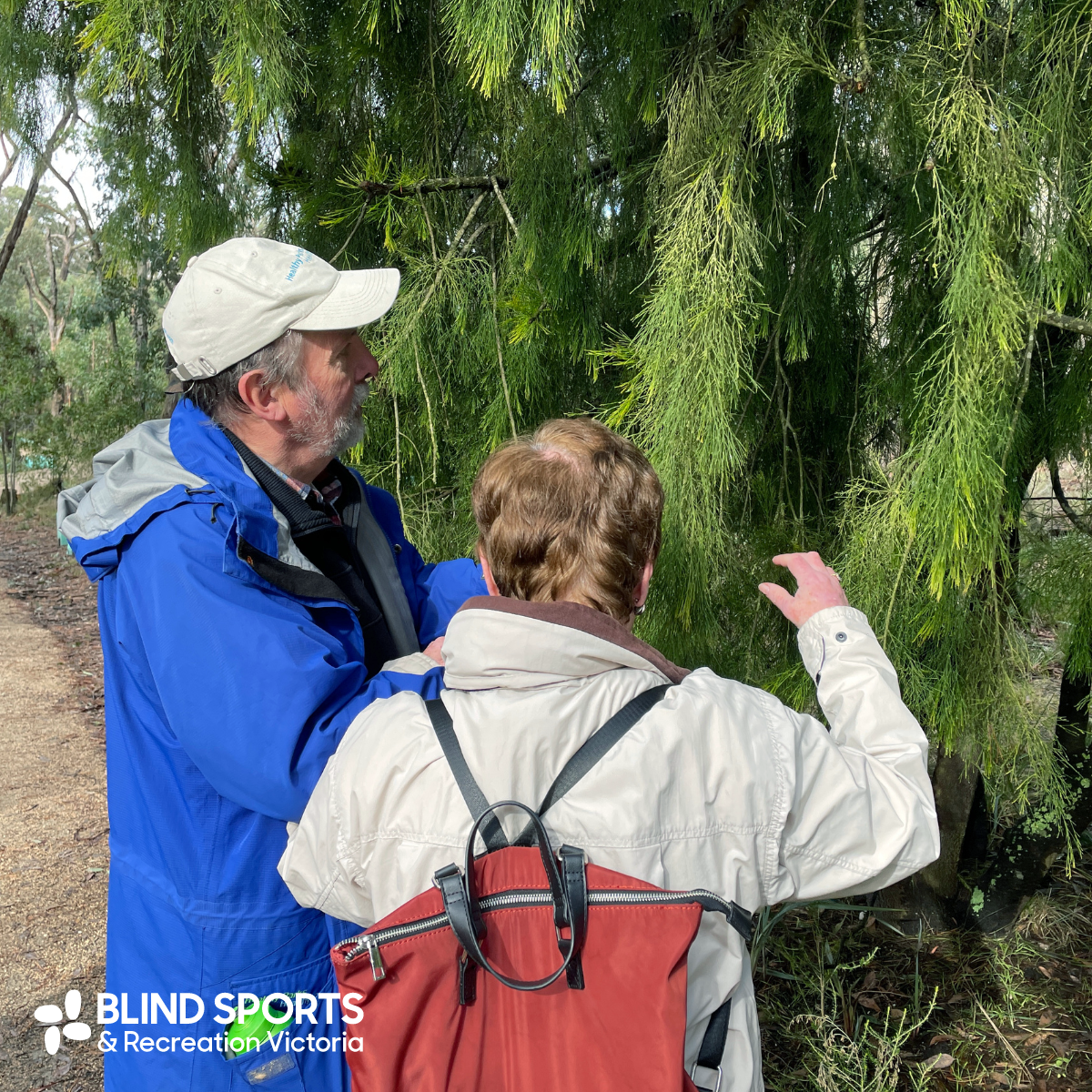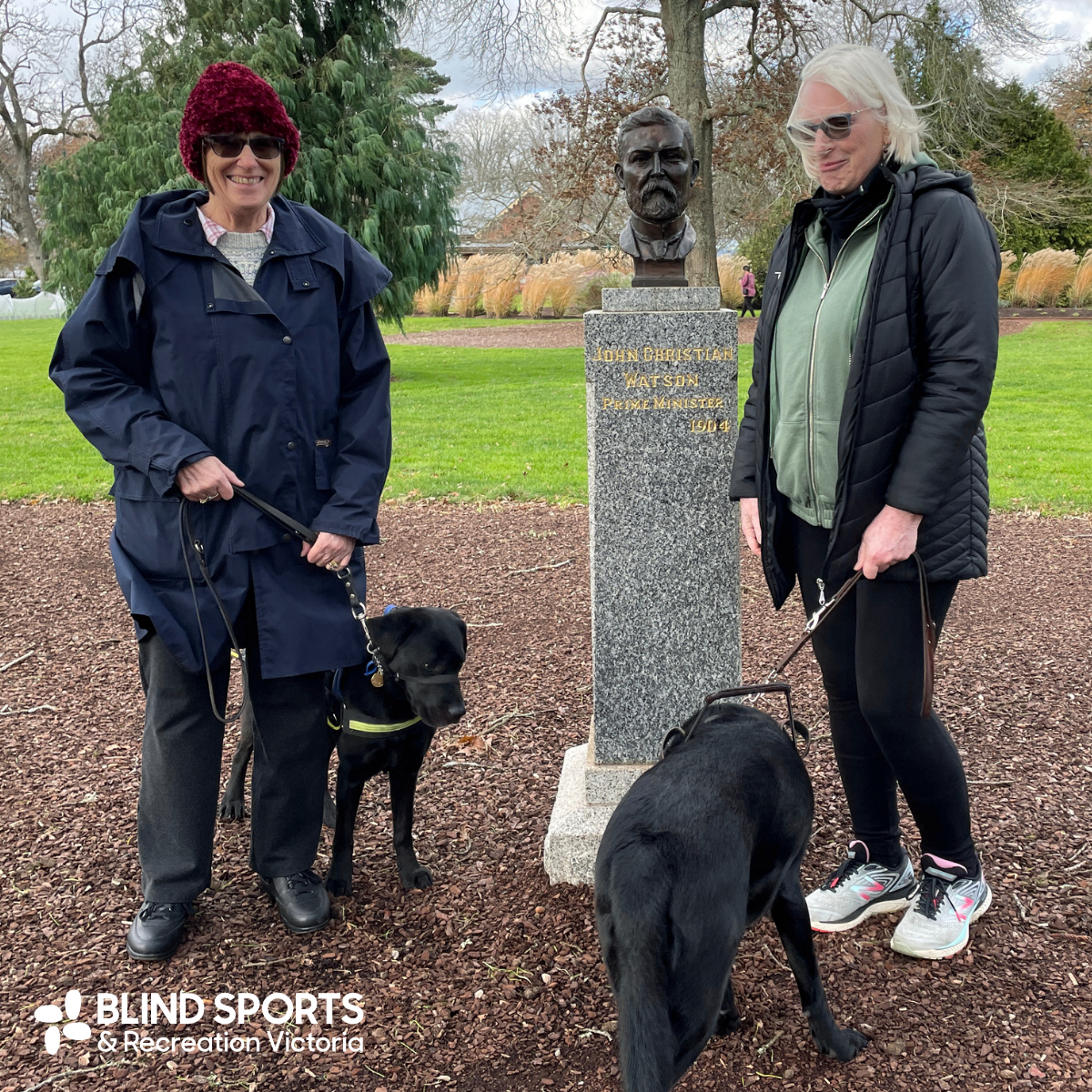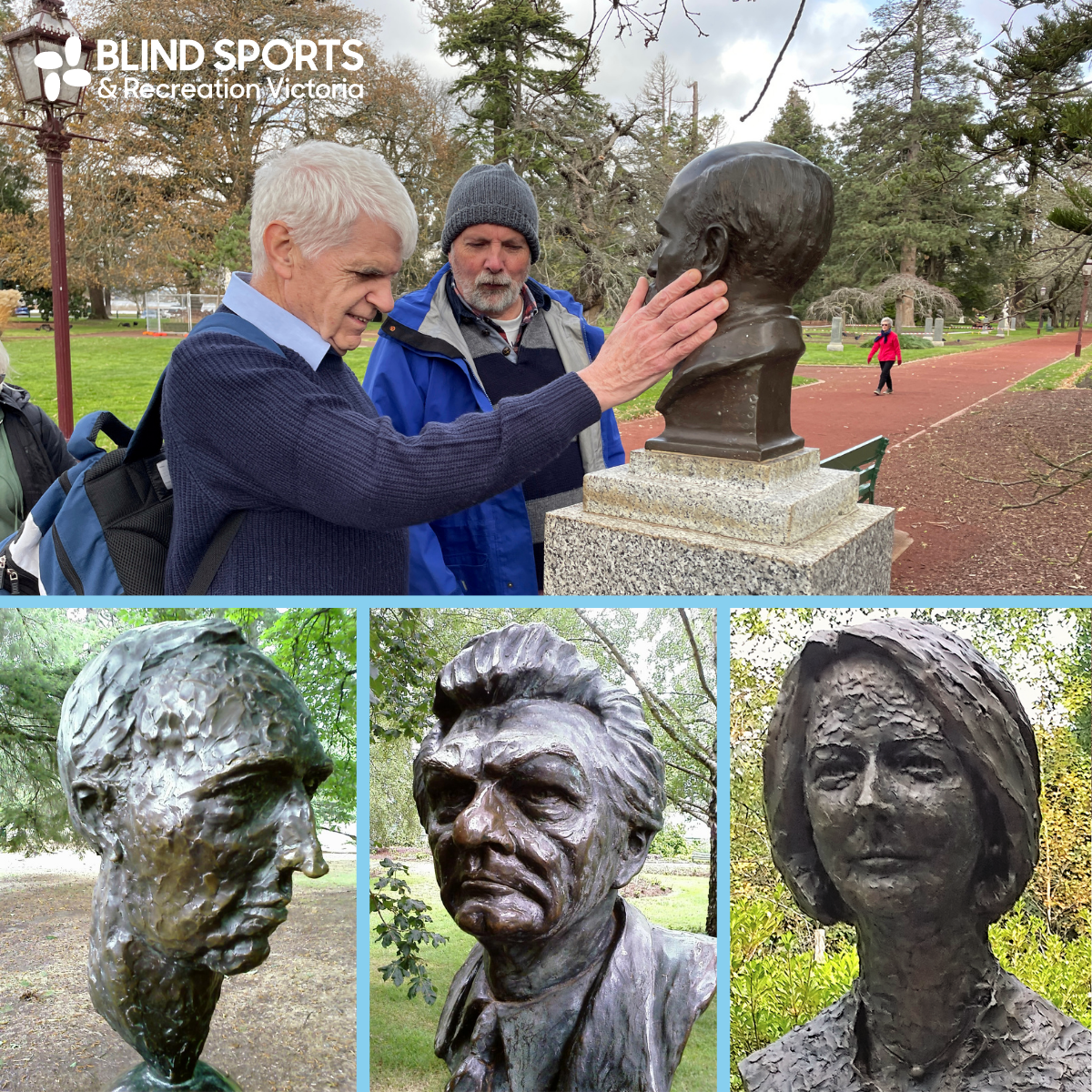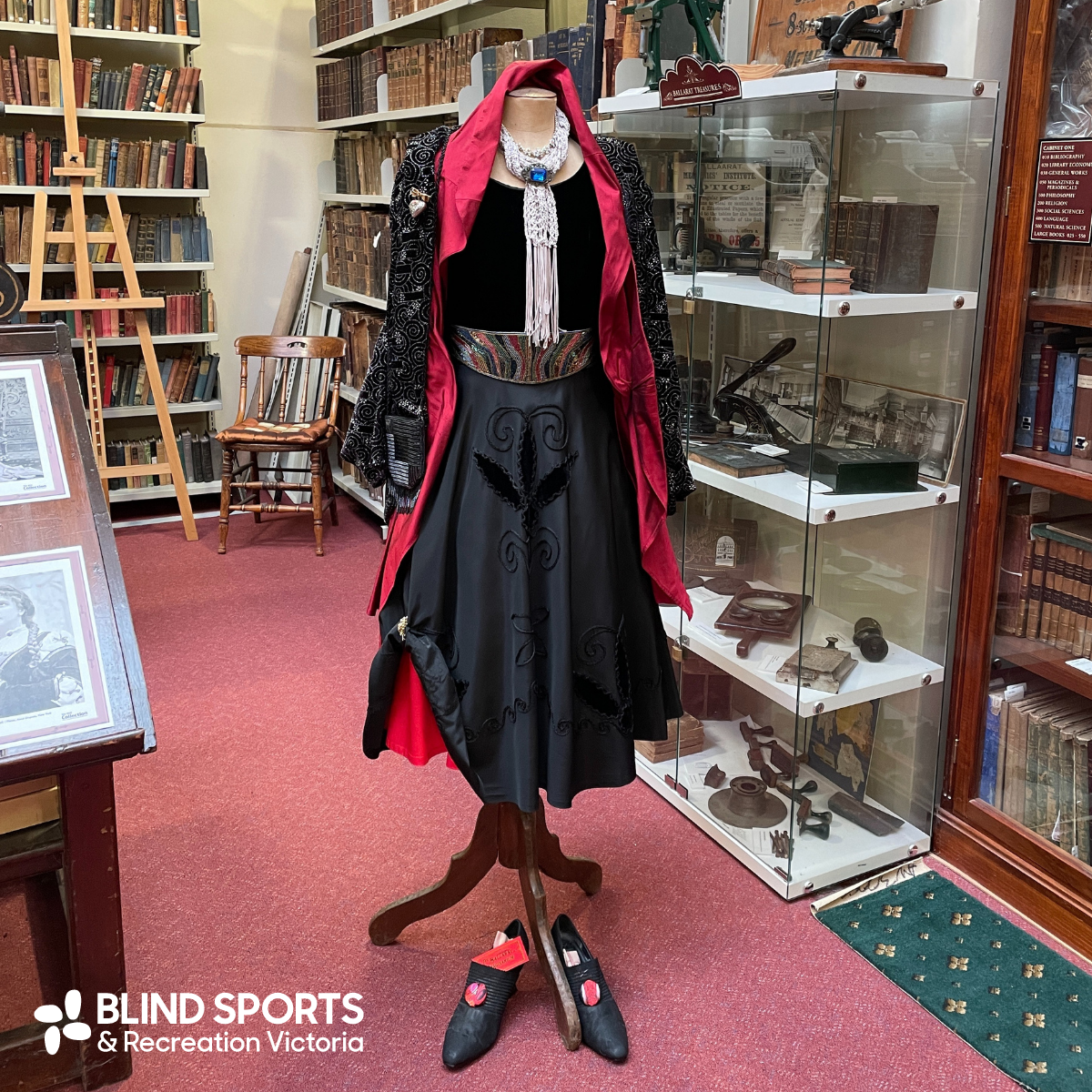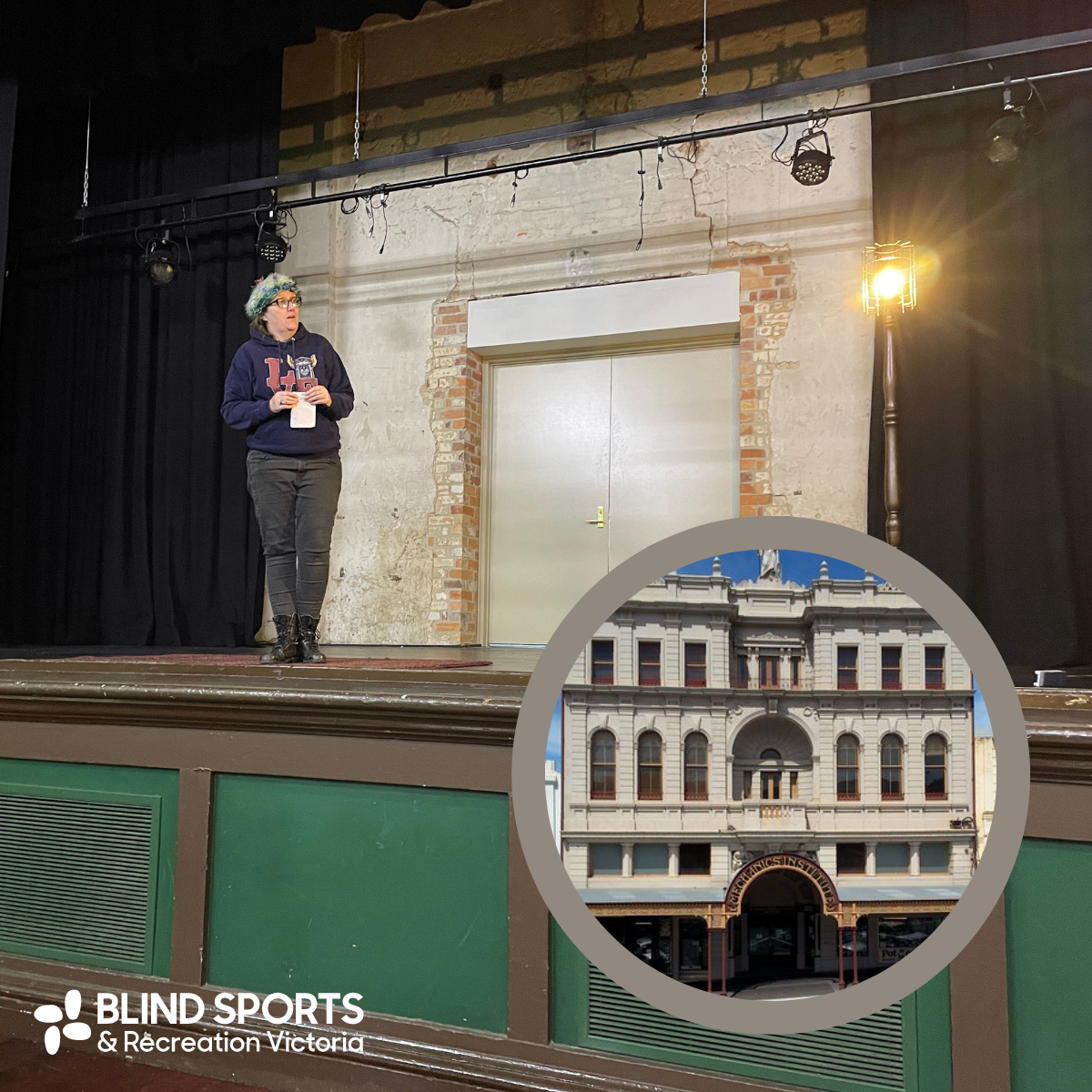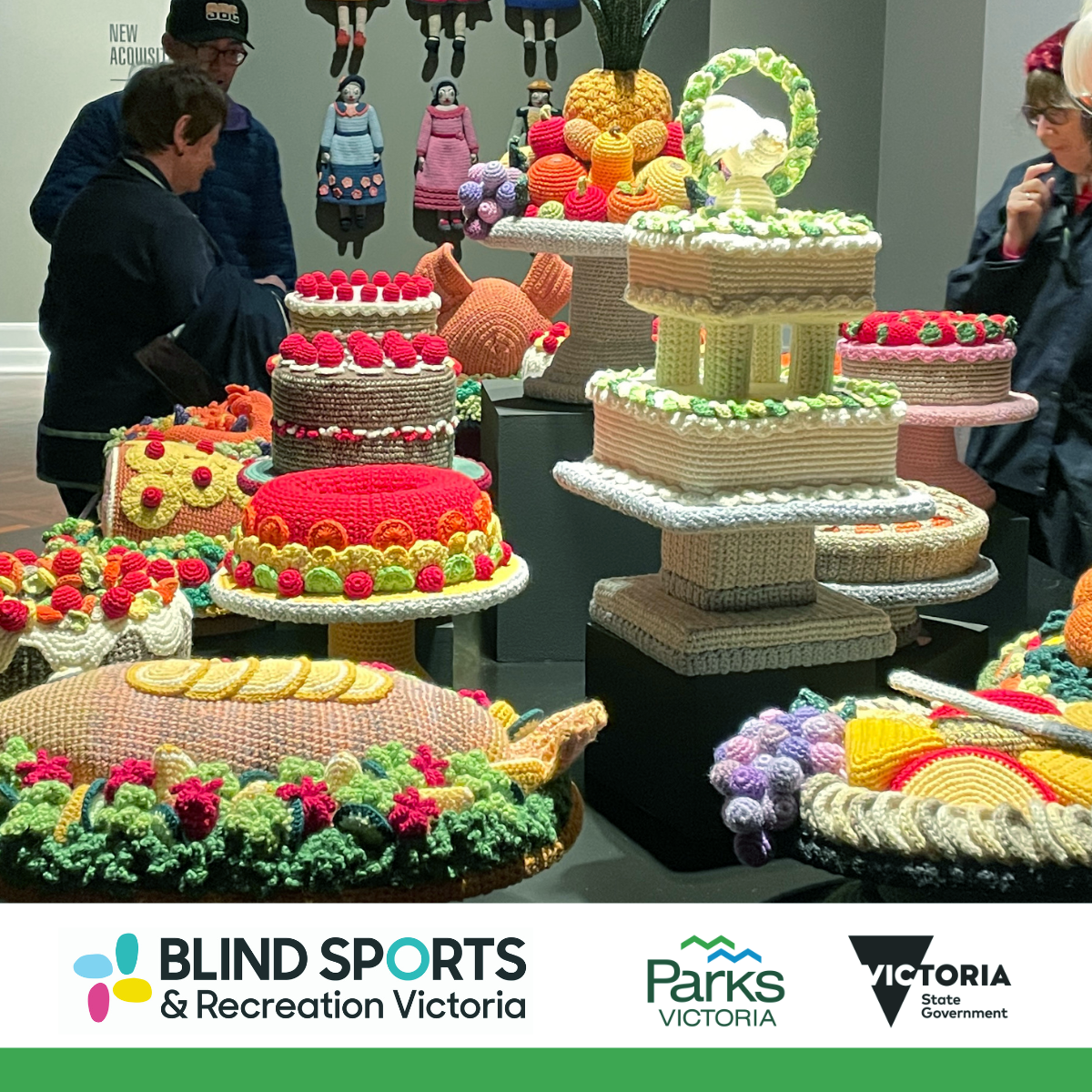 Image desriptions and extra information provided by Jenny Dodd.
BSRV participants exploring 'Woowookarung Regional Park - Sensory Trail' They are walking along the path that is made up of various surface textures. Trees fill the background, with saplings covered with green protective sleeves close to the paths edge. In the foreground BSRV participant Stephen is walking with Carmel. Our Parks guide, Siobhan, appears further back on the path explaining a feature of the trail to two participants, one with a black Labrador Guide Dog.


Another feature of the Sensory trail is an area with two lounges made out of rock, our brave volunteer Rick tested the lounge and described the experience to a group of participants and volunteers gatherered around him. No guesses to his discovery that it was hard and wet.


The sensory trail offers an area with tall wooden stands that allow people to lean against and feel supported while they rest and gaze up at the trees and surrounding woodlands or they can feel the warmth of the sun shining on their faces. In this image two participants tested the stands. In the foreground is Vicki and guide dog Farah, and in the background is Sandra and guide dog Ishka. They were both surprised at how calming and nurturing this experience felt.


This image features BSRV participant Sheila feeling the soft wispy leaves of a native Cherry tree (Exocarpos cupressiformis) while volunteer John describes the green colour and other features of this tree. It is a hemiparasitic tree that photosynthesises but it also gains extra nutrients by attaching it roots to host plants. It bears delicious fruit in the festive season and smells wonderful when it begins to dry.


Strolling along the Prime Ministers Avenue, BSRV participants Sandra and Vicki with their guide dogs are having a laugh as they try without success to guess which Prime Minister this bronze portrait mounted on a polished granite pedestals belongs to. It was John Christian Watson 1904, Australian Labour Party who formed the first National Labour Government in Australia and the world.


BSRV participant Stephen and volunteer John, taking the task of guessing the Prime Minister very seriously. The background features a remarkable collection of mature trees. The image has another section below, showing the busts of three well known Prime Ministers - Paul Keating, Bob Hawke and Julia Gillard.


This image is in Ballarat's Mechanics Institute Heritage Reading room which houses precious stocks of heritage books and journals. It highlights a ladies elegant historic evening outfit, displayed on a wooden stand. The outfit features a black silk flowing skirt and top with a cream beaded neck scarf. A black evening coat is draped over the shoulders with a lovely cherry pink contrast. Behind the outfit is a cabinet with a collection of valuable artefacts.


Features a front view of the Ballarat's Mechanical Institute building, in the foreground was our lovely guide Katrina who gathered us in the magnificent Ball Room and recited a poem of 'Clancy of the Overflow'.


Visiting the Art Gallery in Ballarat, we discovered a crochet exhibition by SA textile artist Trevor Smith who was taught to crochet by his mother in 1960s. This image is of a table displaying a banquet of food that was all hand crocheted. There are platters of Turkey, sandwiches and cakes all created in bright colours, quite amazing.
Check out the BSRV Facebook page where we have posted a larger collection of photos with descriptions from our trip away to Ballarat.
A special thanks must go to Parks Victoria who have supported Blind Sports and Recreation Victoria for many years with grants to enable our members with vision loss to enjoy nature, be active and socially engaged. Jenny Dodd.
This event was made possible by Parks Victoria 'Healthy Parks, Healthy People' Initiative and the VicHealth Reimagining Health Grant.
Thank you to both Parks Victoria and VicHealth for their support.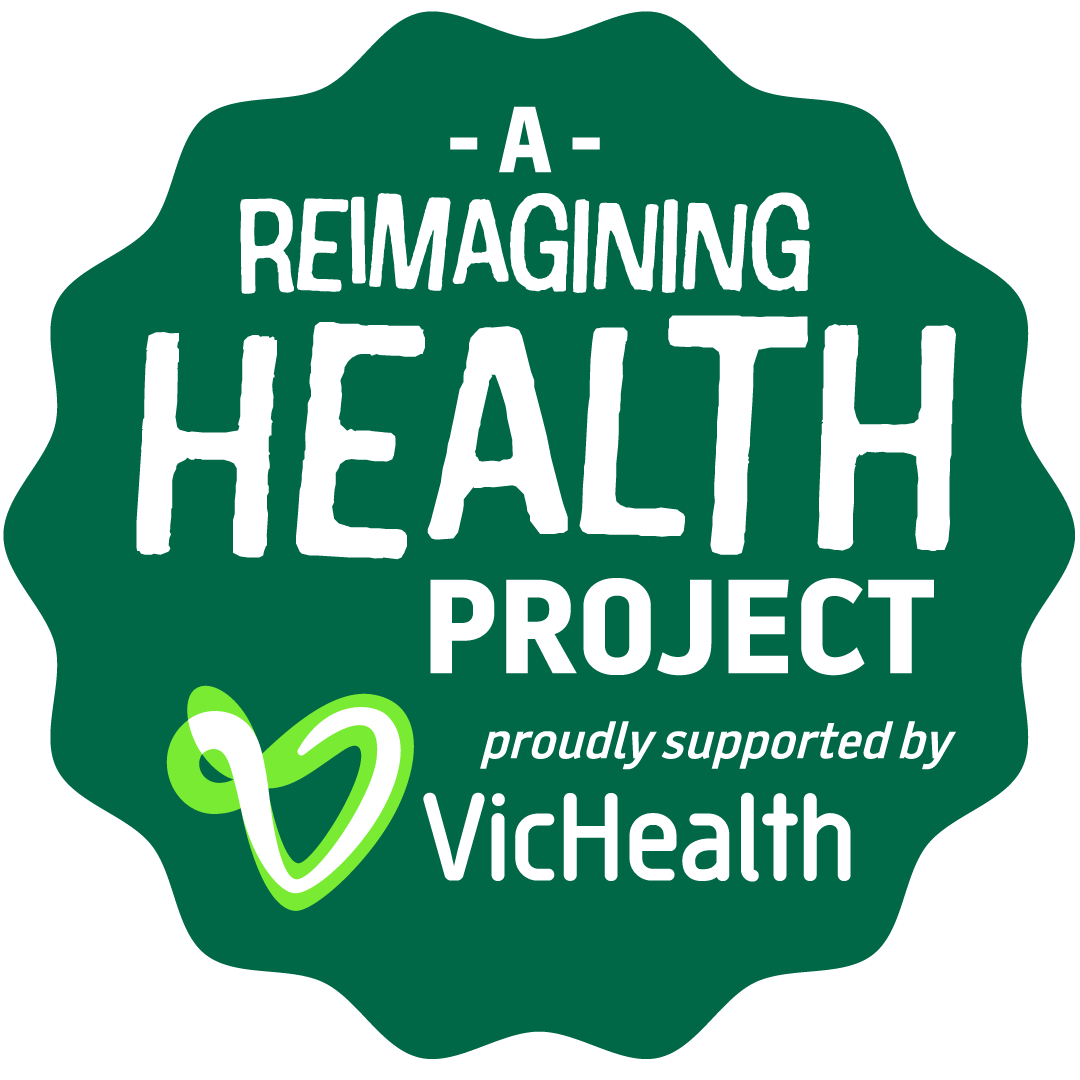 ---