Blind Tennis, a big hit at Government House.
Riley Thompson, one of our dedicated team members was fortunate to be one of those invited for a tour and some tennis at Government House. This is what he had to say about the visit:
On Thursday the 3rd of March, a group of us from the Blind Tennis program were lucky enough to be invited along to the Victorian Government House for a guided tour of the Grand State Rooms and a hit of tennis on the lawn courts in the gardens.
On arrival, we were given a private tour of the State Apartments where we explored the beautiful architecture and grandeur of the building. Some highlights of the tour included the Billiard Room, State Hall, State Drawing Room, State Dining Room and of course the Ballroom!

Following the tour, we were able to relax in the beautiful gardens for a few minutes before gearing up for a hit of tennis on the lawn courts. It was the first time anyone from our group had tried Blind Tennis on grass and it was interesting to try a different surface. The court was kept in immaculate condition, so the bounce of the ball was more consistent than we all expected. We were able to hit for about 45 minutes on a lovely evening.

It was a fantastic experience which we all thoroughly enjoyed! Hopefully we will be back with even more of our tennis crew to showcase their skills next year.
Riley Thompson.
BSRV Program Support Coordinator.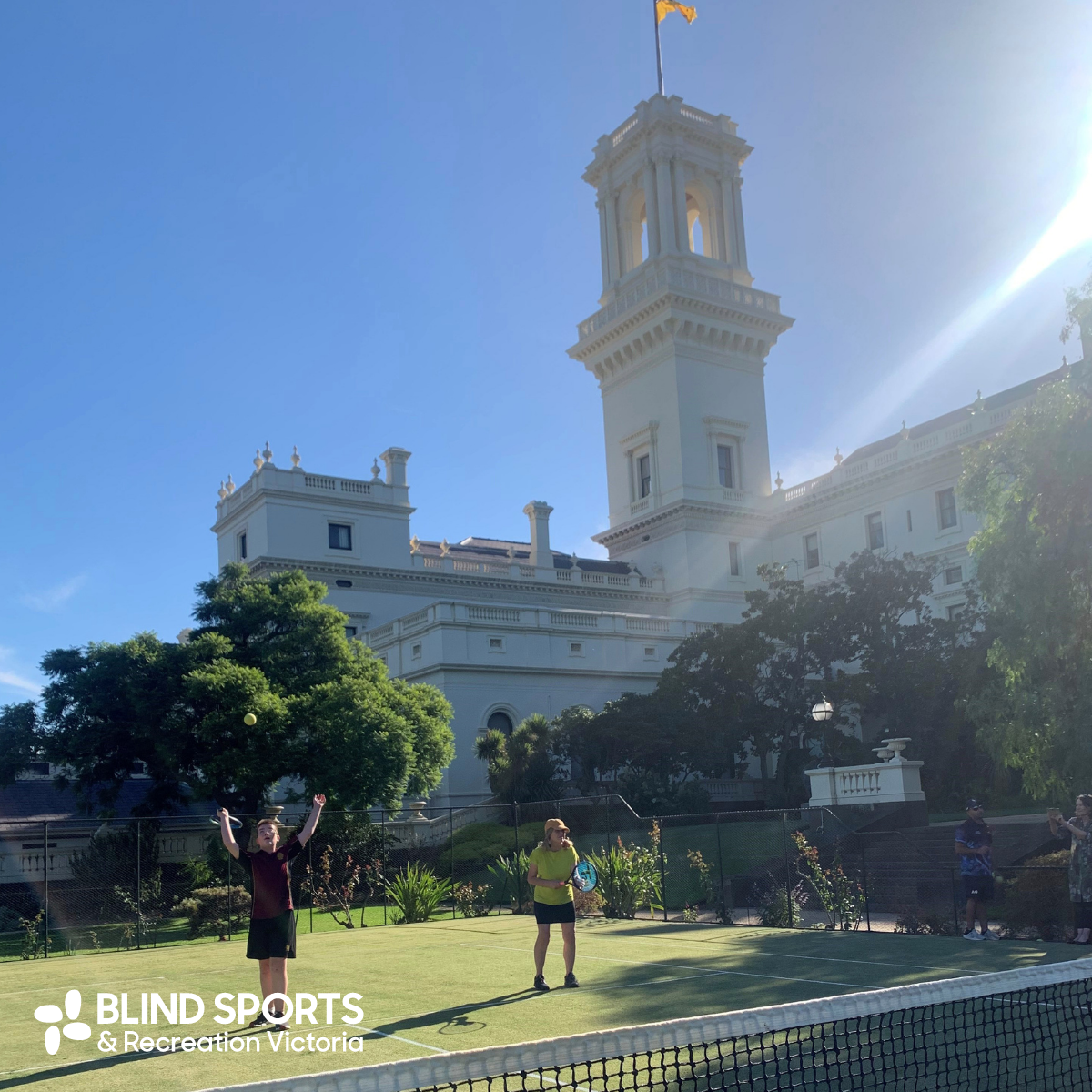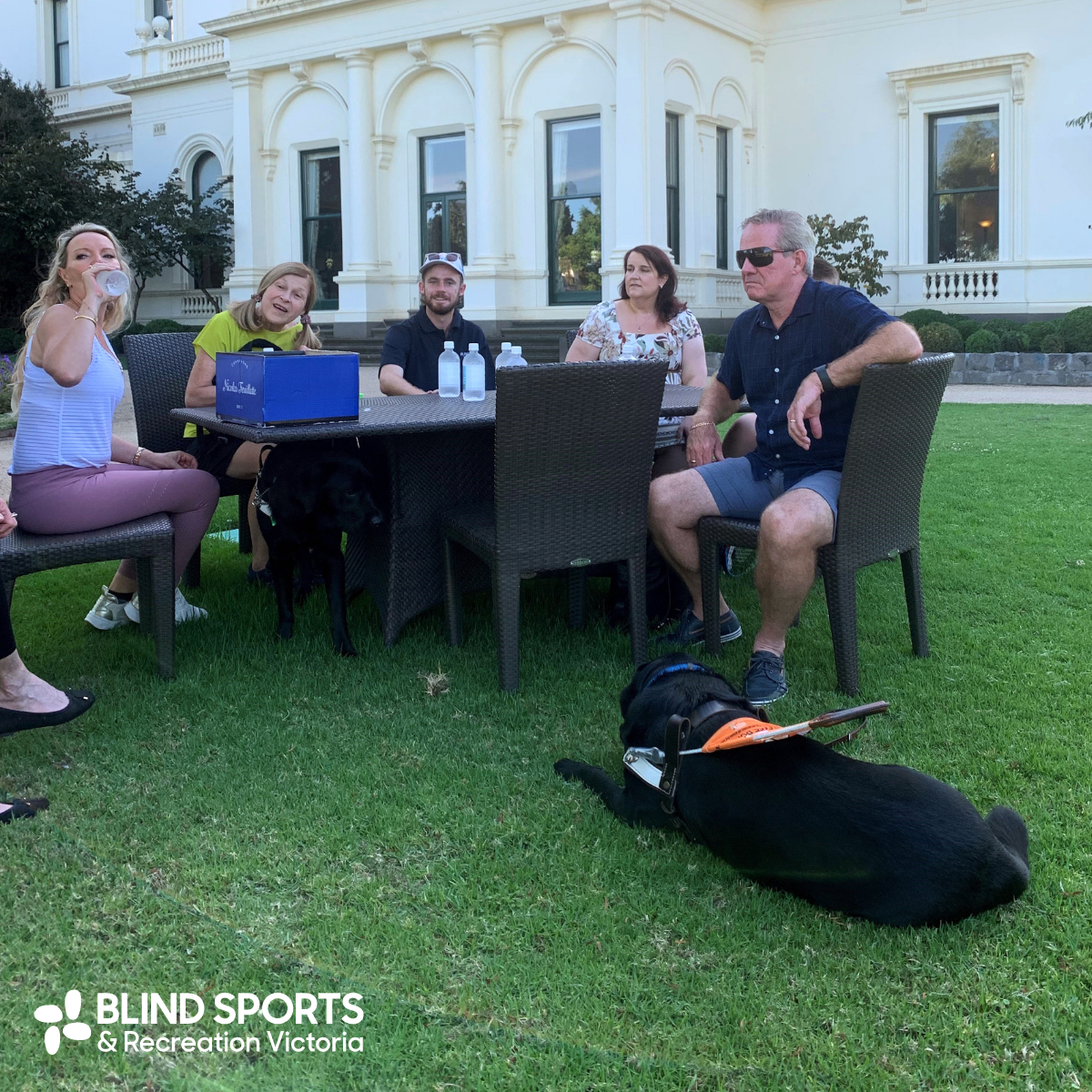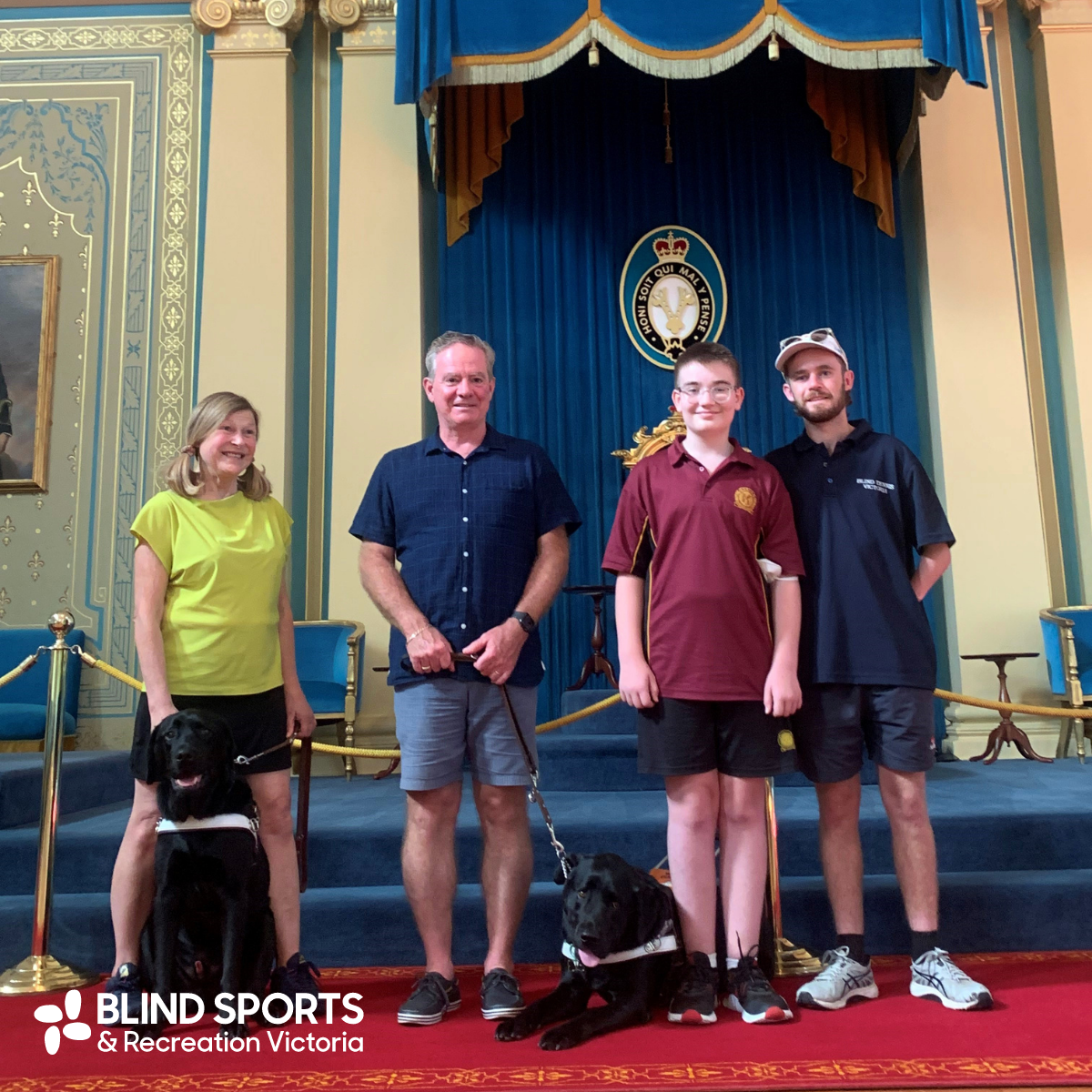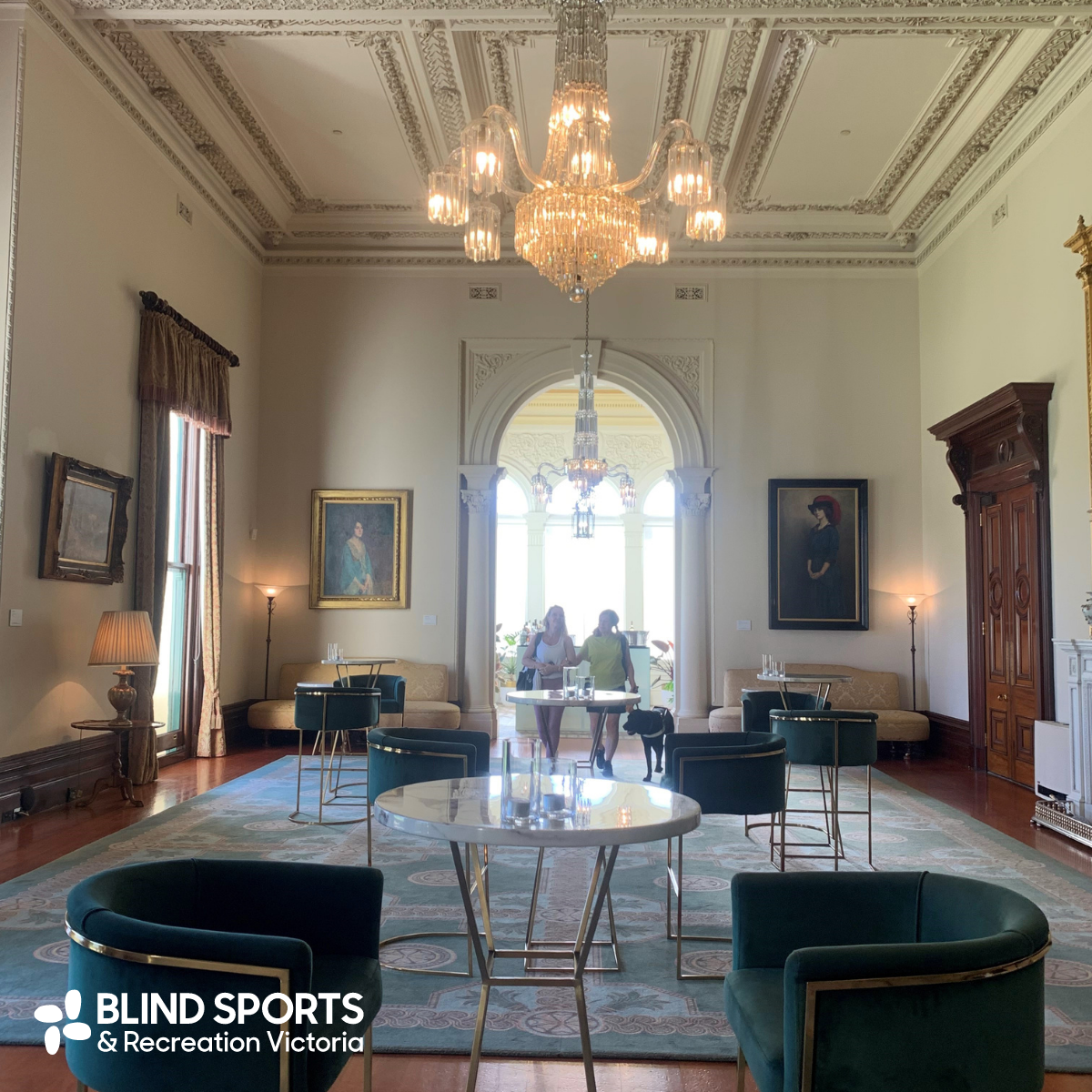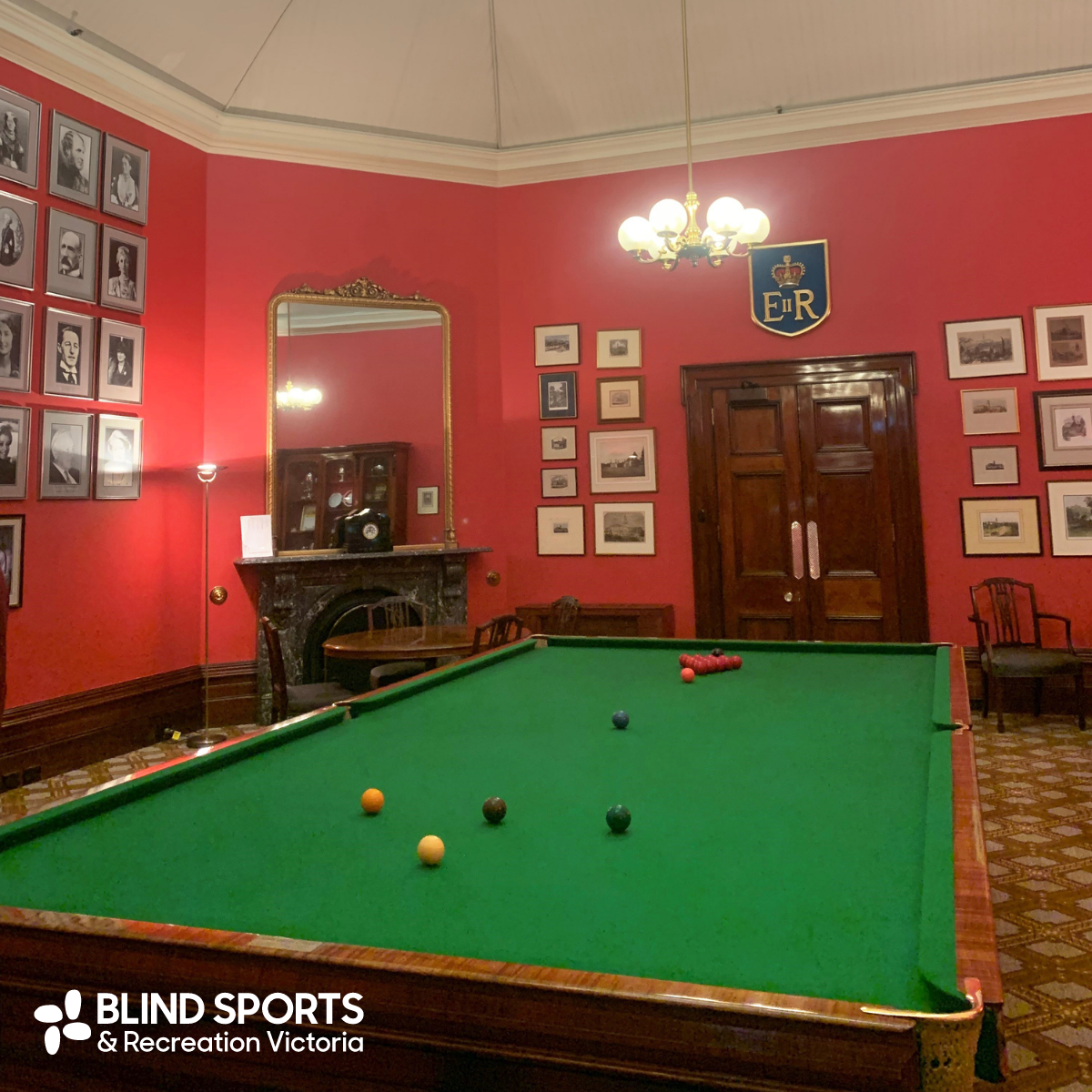 Image descriptions:

1. Participants of the Blind Tennis program, David and Genamarie, on the lawn tennis court with Government House in the background and a stream of sun shining in from the right.
2. Kristen, Genamarie and guide dog Jasper, Riley, Catherine, Robert and guide dog Hamish - relaxing on an outdoor setting in the garden before a hit of tennis.
3. Genamarie, Robert, David and Riley standing in front of the State Chair which is located in the Ballroom.
The State Chair is the focal point of the Ballroom. Only ever used by the Monarch or the Monarch's representative, this State Chair was made around 1859 and has been used by all of the State's Governors since Sir Henry Barkly.
4. The State Drawing Room at Government House.
5. The Billiard Room at Government House has bright red walls that are adorned with photos and a large billiard table with green felt is centred in the room.
---