Congratulations to Kaye Speed OAM!
A very special day at Government House - November 2021
A wonderful celebration at Government House last week, recognising recipients of the Queen's Birthday 2021 Honours List.
Congratulations to BSRV's Secretary, Kaye Speed OAM on being presented with her Medal of the Order of Australia for service to people who are blind or have low vision.
BSRV would like to acknowledge and thank Kaye for the incredible contribution she has made to our organsiation.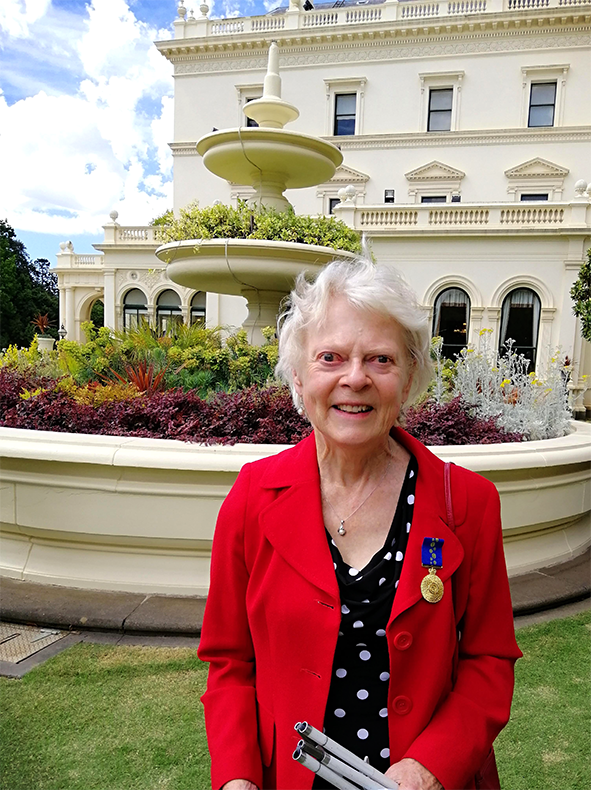 Kaye humbled by OAM
A BIG congratulations to Kaye Speed, Financial Manager of Blind Sports & Recreation Victoria (BSRV) who has been awarded a Medal of the Order of Australia (OAM) for service to people who are blind or vision impaired.
Kaye has Retinitis Pigmentosa (RP), but this has never stopped her determination to tirelessly support the organisation with her financial wizardry skills in the positions of Treasurer, Company Secretary and Financial Manager. As Kaye's vision deteriorated over the years, she adapted to her vision loss by learning new skills, including using talking software, to manage the financial accounts.
Kaye coordinates and manages the volunteer financial team and works alongside a number of other volunteers. Astute strategic financial management, grant writing and fundraising activities have only strengthened BSRV's resolve as the peak sporting body in Victoria.
"I'm very pleased that our organisation is recognised, and also humbled, because I believe it has been a team effort and so many other volunteers have assisted me over the years" said Kaye.
As President of BSRV for over 27 years, Maurice Gleeson says Kaye has been one of the most outstanding volunteers any organisation could have. She demonstrates clearly that she has professionalism, passion, people skills and the Medal of the Order of Australia is a reflection of the high esteem in which she is held.
Top banner photo: Kaye and Maureen. Courtesy of RACV. Photographer: Shannon Morris
---