Goalball Streamed from Tokyo! Celebrating success, teamwork and inclusion.
An update from the Victorian Goalball Association.
2021 has turned into another challenging year as we all continue to ride the lockdown roller-coaster. When winter arrived, we used our determination and enthusiasm to provide fun and social programs to our goalball family.
Stop and start interruptions aside, our juniors have started their journey by learning to block and throw a ball. With a hint of competitiveness, there have even been some goals scored against parents. At the end of the day, it's about celebrating success, no matter how big or small. It is these values of teamwork, connectedness and inclusion that have filtered into our senior program, switching the focus to attendance and good sportsmanship.
Unfortunately, our programs have been postponed due to the current lockdown. With one of our members, Jenny, competing as part of the Aussie Belles (Australian Women's Goalball team), our attention was redirected to the 2020 Tokyo Paralympic Games. With goalball being streamed for the very first time, we have been glued to the screens in support of our Aussie Belles. Despite being knocked out of the games, our Aussie Belles had their first win in 25 years (against Canada), defeated the current World Champions (Russia) and played to the quarter finals for the first time in history. We are so proud of our Aussie Belles who have achieved so much.
We are hoping that the Aussie Belles performance at the 2020 Tokyo Paralympic games will inspire the next generation of goalball players, especially as we prepare to host the Australian Goalball Championships in October 2022.
If you would like to be part of our goalball family, you can contact us at info@goalball.org.au or connect with us via Facebook at: https://www.facebook.com/vic.goalball.
Visit the VGA website here.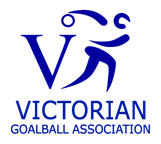 What is Goalball?
Goalball is a sport designed for and played by blind and vision impaired people. It is a fast-paced, indoor sport that relies on hearing.
If you would like to get involved, come and check it out. Our local competition is held at the Scotch College Junior School Gym, from 9:20am on Saturdays from April until September. Enter at gate 7 on the corner of Callentina Road and Glenferrie Road.
We also run come and try days throughout the year, offering the opportunity to try out Goalball in a friendly and safe environment.
Scotch College Junior School Gym
11 Callantina Road
Hawthorn
---