High energy and awesome fun at Bounce. We joined in!
Bounce Away!
When you walk into any of the Bounce trampolining centres across Victoria you will find a huge high ceiling warehouse filled with trampolines of different sizes, some flat and some almost vertical, as well as long trampoline runways, giant foam pits to leap into, 'cliff jumps' for the height enthusiast and an enclosed play area for the little ones. You will also find staircases, crowds and lots of noise! This sort of environment can be overwhelming for people with vision loss, but with the right support, it can be a ticket to freedom.
On the recent 2023 January school holidays, Program Manager, Miriam Bilander, organised a visit to Bounce in Essendon Fields for kids with vision loss.
Beforehand, Miriam provided the staff who would be looking after her group with Vision Loss Awareness Training. This meant that on the day, the giant warehouse roller doors were shut to reduce glare, the music was turned down, obstacles were moved aside to reduce trip-hazards, and most importantly, three staff members gave our participants regular verbal cues as to where and how to jump, tactile support when required and loads of encouragement!
It was wonderful to see the transition in confidence as kids went from tentative little jumps, to flips into the foam pit and finally, brave leaps off the three metre 'cliff jump'.
When Miriam asked participant, Izzy, what she enjoyed the most, Izzy said, "I loved the cliff jump because I regret not going up the skate ramp last time we went skating, but now I faced my fears and I now know I can do it!".
A special thanks to Bounce staff, Miguel, Minnie, Marco and Michael, for being so receptive to training and providing outstanding care to our kids. Thank you also to VicHealth for all your support.
This event was made possible thanks to the VicHealth JumpStart! program.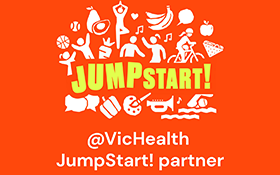 ---