Horse riding holiday fun. We joined in!
The freedom of riding horses and sharing experiences with new friends.
'Exploring All About Horses' - Written by Eva, 10 year old participant.
Blind Sports and Recreation Victoria have all kinds of events for kids who are blind or vision impaired. This is great because then kids get to know other kids who are blind and socialise with them.
On Thursday the 28th of April there was an event. Kids got to learn about horses, how to ride them and what way to groom them.
The kids got split into two different groups and went off to either go horse riding or to groom a horse, then they swapped. When the kids were riding the horses they had assistance so they had someone to chat with and to control the horse. If kids were scared there were helpers and the parents could come too.
With the grooming the kids learned about the types of brushes, and how to remove mud off the horse's hoof. Then the kids got to hold the rains of the horse and walk a bit with it on their own.
After the activities, Miriam, some kids and parents had brought food for morning tea. The kids had a snack and got to know each other very well. All of the kids and siblings had a great time!
"My favourite part was the trotting on the horse!"
BSRV would like to thank Sally Francis from Tooradin Estate and her many helpers for welcoming us with open arms and giving our kids such a meaningful horse riding experience. BSRV would also like to thank Vic Health Jumpstart for all their support.
This event was made possible thanks to the VicHealth JumpStart! program.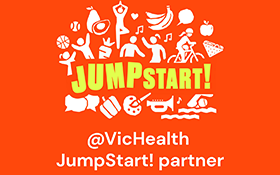 ---