Meet Alan Bartlett, our super talented Music Quiz Master.
Alan shares his time and enthusiasm for music with Blind Sports and Recreation Victoria.
Alan Bartlett is a talented musician who shares his love of all things music, for one hour via Zoom/dial in, on selected Wednesdays with the Blind Sports and Recreation Victoria community. These sessions allow people who are blind or vision impaired to connect with others, test their music knowledge, have fun and maybe have a boogie or a sing along.
Alan is a multi-instrumentalist with over 30 years of performing experience. He honed his craft performing on the streets of Melbourne as a one-man-band, moving between flutes, pan-pipes, the recorder and other instruments.
Alan explores a wide variety of styles playing his main instrument, the acoustic guitar. As a performer, Alan has played to audiences both small and large, most notably as a regular band member of St Paul's Church where he specialises in contemporary worship tunes and traditional hymns. Outside of this, he enjoys creating musical arrangements and accompanying other singers.
In 2021, Alan was the recipient of Arts Access Victoria's inaugural Music Makers mentorship program, working alongside rock singer, Hollie Joyce. Alan is currently focused on creating a musical repertoire that speaks to the depths of his life experiences.
Photo of Alan Bartlett playing in St Paul's Anglican Music Band – supplied by Alan.
[Image of seven band members posing for the photo and smiling. They are in a room with brick walls and mounted speakers. A screen is mounted high with an image and text reading Saint Paul's, Boronia. Alan Bartlett is sitting centre holding his acoustic guitar.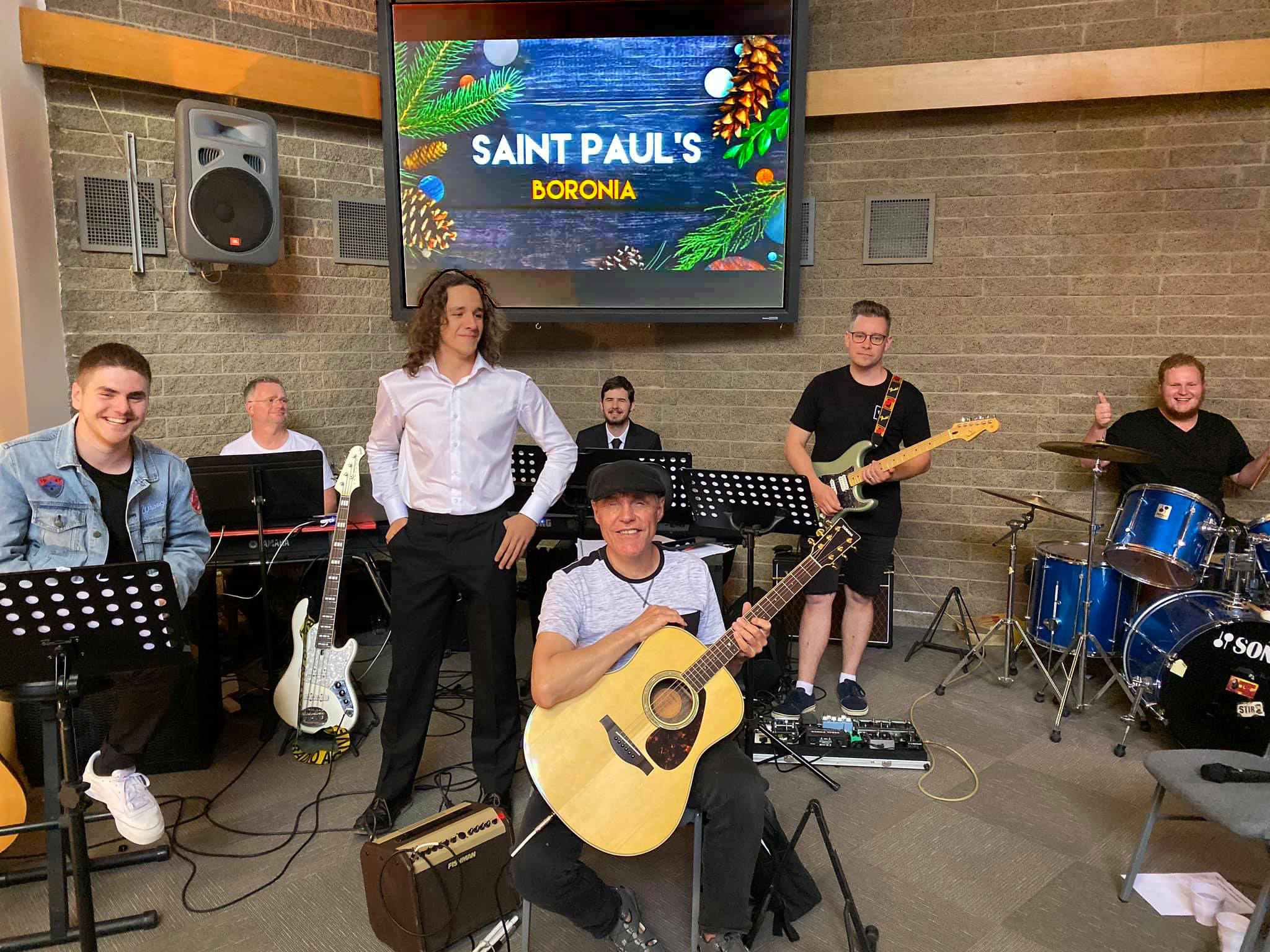 ---