Meet Carmel, a BSRV volunteer with wonderful positive energy.
Always wearing a smile, Carmel lifts the spirits of those around her.
Carmel is such an asset to BSRV. She is helpful and considerate and will always go the extra mile to support others. She has a friendliness, humour and positive energy about her that is so welcoming. Carmel has volunteered across many programs and brings a ray of sunshine, practicality and willingness to be of service in a fun and friendly inclusive way. She is dedicated to supporting people who are blind and vision impaired and helps immeasurably with assisting people with travelling to events on public transport… she's always up for catching the train!
Rachel, BRSV Program Manager says "I have appreciated spending time with Carmel when we have wandered together on walks and greatly value her contributions to the 'Sensing Nature' program. Carmel travelled all the way from the Western suburbs by public transport to our event in McCrae on the Mornington Peninsula. She is very generous with her time and willing to go the extra mile for us."
Carmel shares her volunteering experience and her motivation for helping others.
In November 2010 I started volunteering with Vision Australia because of my personal experience of providing support for my father who had macular degeneration. With support from my sister and me he was able to stay active and independent at home until he was 90. When he passed away, I wanted to provide that same sort of support to other people. There are so many simple actions that most of us take for granted, but make a big difference to someone with impaired vision.
Through Vision Australia I became aware of and involved with Blind Sports and Recreation Victoria, in November 2018. Not being a sporty person, I signed up for the walking activities. I have been on many group walks that are always interesting and fun. These walks include such diverse locations as the Altona foreshore with a ranger who discussed the migratory birds & native plants; You Yang's walk, Point Cook seaweed exploration and tasting, Studley Park river walk & Werribee Park Rose Garden. Of special interest was the historical guided walk in the 'gangster' end of the city and a very informative indigenous walk in McRae.
Delightful friendships and experiences flow from simple beginnings. I was matched for personal walking with Elsa and we discovered a shared love of music and theatre which led to us going to 'Morning Melodies' at Hamer Hall throughout the year. We take the train to the city, enjoy the show and then stop for a light lunch and coffee before heading home on the train. It's such an easy way to travel.
In early 2022 I went on a 3 day trip to Ballarat with 6 participants, 2 guide dogs and 6 sighted guides/volunteers. The activities we did were great fun and informative and being part of such an enthusiastic group made me experience Ballarat in a wonderful new way.
Attending conferences as a sighted volunteer has also been a way to meet many different people and learn about groups and businesses that provide services for people with impaired vision. Another highlight was participation in the Sensing Nature walks.
The benefits are probably the same for each of us: being active, having new experiences, learning new things, meeting new people and having fun with like-minded people.
I am constantly amazed at how many different and interesting volunteering opportunities exist. Once you get started you never know what will come your way. I'm excited to be part of such an interesting and innovative group and to support people in experiencing the wonderful activities and outings.
Thank you to Miriam, Rachel, Jenny and the BSRV team for giving me those opportunities.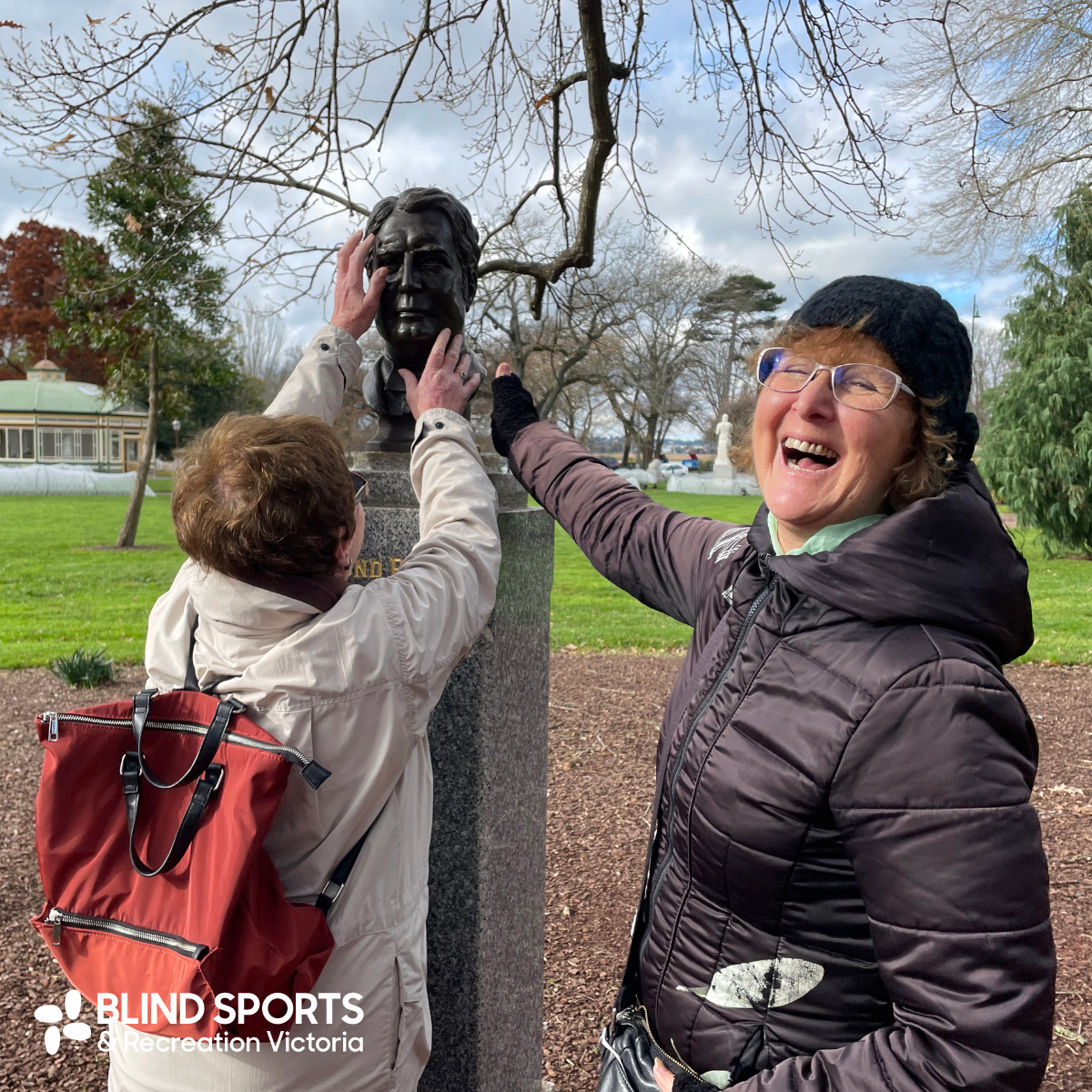 "This lovely picture of Carmel reflects her always sparkling personality. The BSRV team have all mentioned how lucky we are to have a volunteer like Carmel who is always cheerful. I love the way she describes everything to her partners with vision loss." Jenny Dodd, BSRV Program Manager.
---